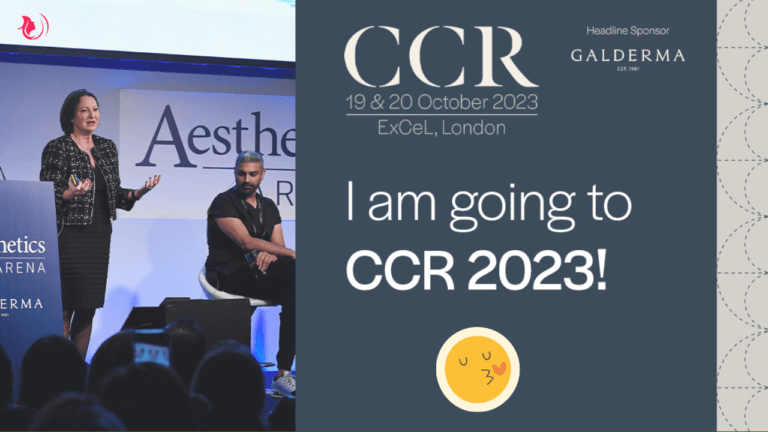 Hello, beauty enthusiasts! I have exciting news to share with you today. Get ready to mark your calendars because the highly anticipated CCR 2023 exhibition is just around the corner.
This remarkable event will take place at Excel, London on the 19th and 20th of October 2023. I can't wait to give you a sneak peek into this extraordinary exhibition. Prepare to be dazzled by the latest trends, innovative products, and expert insights from renowned brands and industry leaders. Let's dive right in and explore the wonders of CCR 2023.
Featured Aesthetic Brands at CCR 2023
CCR 2023 conference is set to showcase an impressive lineup of leading beauty brands, each bringing their unique offerings to the forefront. Here are some of the brands you can expect to see at the exhibition:
1. Galderma
Galderma is a renowned beauty brand that specializes in dermatological solutions. With a strong focus on skin health and wellness, Galderma offers a range of innovative skincare products designed to address various concerns and enhance the overall appearance of the skin. Their products are backed by extensive research and formulated with high-quality ingredients to deliver effective results. From acne treatments to anti-ageing solutions, Galderma's commitment to dermatology shines through in its offerings. With a reputation for excellence and a dedication to promoting healthy skin, Galderma has become a trusted name in the beauty industry. A brand worth exploring for those seeking targeted and science-backed skincare solutions.
2. Hydrafacial
Hydrafacial is a game-changing skincare treatment that has taken the beauty industry by storm. This revolutionary facial combines deep cleansing, exfoliation, extraction, hydration, and antioxidant protection in a single, non-invasive procedure. Using a patented Vortex-Fusion technology, Hydrafacial deeply cleanses and revitalizes the skin, leaving it smoother, brighter, and more radiant. The treatment is customizable to address specific skin concerns such as acne, fine lines, hyperpigmentation, and uneven texture. What sets Hydrafacial apart is its ability to deliver instant results without any downtime or discomfort. Whether you're looking for a quick pick-me-up or a comprehensive skin rejuvenation, Hydrafacial offers a luxurious and effective solution that will leave your skin looking refreshed and rejuvenated.
3. SkinCeuticals
SkinCeuticals is a renowned beauty brand that is dedicated to advanced skincare backed by science. With a focus on research and innovation, SkinCeuticals offers a range of high-performance skincare products that target specific skin concerns and promote overall skin health. Their formulations are formulated with potent ingredients such as antioxidants, vitamin C, retinol, and hyaluronic acid to provide effective results. SkinCeuticals is known for its commitment to rigorous testing and clinical studies, ensuring that its products deliver proven benefits. From their antioxidant serums to their targeted treatments, SkinCeuticals empowers individuals to achieve optimal skin health and address concerns like ageing, sun damage, and uneven skin tone.
4. Cutera
Cutera is a pioneering brand in the field of aesthetic laser technology, offering advanced solutions for skin rejuvenation, body contouring, and hair removal. With a focus on delivering safe, effective, and clinically proven treatments, Cutera has become a trusted name in the beauty industry. Their state-of-the-art devices utilize innovative technologies such as laser, light, and radiofrequency to address a wide range of skin concerns. From reducing wrinkles and improving skin texture to sculpting the body and achieving smooth, hair-free skin, Cutera's treatments offer transformative results. With a commitment to innovation and a dedication to patient satisfaction, Cutera continues to push the boundaries of what's possible in the world of aesthetic treatments.
5. DermaFocus
DermaFocus is a brand that shines a spotlight on medical-grade skincare products. With a focus on providing effective and targeted solutions, DermaFocus offers a range of specialized products designed to address specific skin concerns. Their collection includes serums, moisturizers, and speciality treatments that are formulated with high-quality ingredients and backed by scientific research. DermaFocus aims to optimize skin health and help individuals achieve their desired results. Whether you're looking to combat acne, reduce the appearance of fine lines and wrinkles, or improve overall skin texture, DermaFocus has a product to suit your needs.
6. Hya Corp
Hya Corp is a leading brand in the field of dermal fillers, specializing in hyaluronic acid-based injectables. With a focus on enhancing facial aesthetics, Hya Corp offers a range of products that aim to restore volume, sculpt contours, and rejuvenate the skin. Their dermal fillers are carefully formulated to provide natural-looking results and promote a youthful appearance. Hya Corp's injectables are known for their smooth texture, long-lasting effects, and safety. The brand's commitment to quality and innovation has made them a trusted choice for aesthetic professionals worldwide. Whether you're seeking to enhance lip volume, reduce the appearance of wrinkles, or restore facial volume, Hya Corp offers reliable and effective solutions.
7. Crown Aesthetics
Crown Aesthetics is a brand that stands out in the beauty industry with its focus on advanced aesthetic devices and skincare solutions. Committed to delivering top-quality treatments, Crown Aesthetics offers a range of innovative products designed to address various beauty concerns. From skin rejuvenation to body contouring and hair restoration, their cutting-edge devices are known for their efficacy and impressive results. Crown Aesthetics understands the importance of combining technology with skincare, and their skincare solutions complement their devices perfectly. Their range includes products that nourish and protect the skin, helping individuals achieve optimal results and maintain their beauty routines at home. With a dedication to excellence and a commitment to providing transformative experiences, Crown Aesthetics has become a go-to brand for professionals.
Behind-the-Scenes and Interviews
I've had the privilege of delving into the behind-the-scenes preparations for CCR 2023. One of the key speakers and someone who will be giving an additional special seminar is Dr. Tapan Patel. Dr. Patel is a renowned cosmetic doctor and founder of PHI Clinic in London. His insights into the latest advancements, treatments, and techniques are highly respected. Apart from speaking, he will be conducting a special seminar, for which you can register during the normal registration process for the event.
Speakers
The who's who of medical aesthetics in the UK will be at the conference. Here is a list of some of the speakers:
Mr Jeff Downie
Dr Yusra Al-Mukhtar
Dr Lara Watson
Miss Priya Chadha
Dr Munir Somji
Mr Dalvi Humzah
Sharon Bennett
Mr Ayad Harb
Alice Henshaw
Dr Raul Cetto
Dr Souphi Samizadeh
Latest Trends and Innovations
Skincare: CCR 2023 will highlight the growing trend of clean and sustainable skincare. Look out for brands emphasizing natural ingredients, eco-friendly packaging, and ethical practices. Expect to see the rise of personalized skincare solutions tailored to individual needs.
Makeup: The exhibition will feature a focus on inclusive beauty, with brands expanding their shade ranges and embracing diversity. Explore vibrant and versatile makeup products that celebrate individuality and self-expression.
Haircare: Attendees can expect to witness the growing demand for clean and natural hair care. Discover brands that offer plant-based formulations, sustainable packaging, and innovative hair treatments for various textures and concerns.
Personal Recommendations
Plan your schedule: With so much to see and explore, it's essential to plan your visit in advance. Prioritize the brands and products you're most interested in and map out a strategic route to make the most of your time at the exhibition.
Engage with experts: Take advantage of the opportunity to engage with industry experts, attend seminars, and participate in panel discussions. Expand your knowledge and gain insights directly from the professionals.
Try before you buy: CCR 2023 offers the chance to experience products firsthand. Take advantage of demos and samples to test products and treatments before making purchasing decisions.
CCR 2023 promises to be a remarkable event for beauty enthusiasts. From skincare innovations to makeup marvels and groundbreaking haircare, this exhibition will immerse you in a world of beauty and inspire you to elevate your self-care routine. Don't miss out on this extraordinary opportunity to explore the latest trends, connect with industry experts, and discover cutting-edge products. Get ready to be captivated at CCR 2023!
Note: Please stay updated with the official CCR 2023 website and follow their social media channels for the latest information, as event details and featured brands/products may be subject to change.