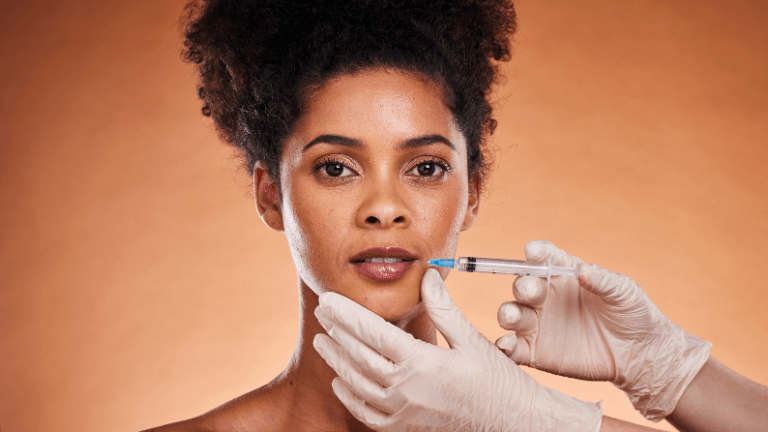 Dermal fillers are one of the most popular non-surgical aesthetic treatments for restoring volume to the skin across the face.
What are Dermal Fillers?
Dermal fillers are a great choice of aesthetic treatment, as they reinstate the skin's natural levels of hyaluronic acid.
Hyaluronic acid is a substance that exists within the skin. It's known as a humectant, binding moisture to skin cells, which results in the sound structural integrity of the tissues within the skin. When hyaluronic acid levels decrease, more effort is required to keep the skin hydrated and from becoming dull and tired-looking.
What are the Most Popular Areas Treated With Dermal Fillers?
Dermal Fillers for Lips
The lip area has become one of the most popular features people want to change about themselves. Gen Z and Gen X have been increasingly attracted to lip fillers, with thick and contoured lips undergoing a renaissance in the celebrity world and on TikTok.
Under-Eye Dermal Fillers
The eye area is known for being the part of the face that loses its youthful vitality first. Under-eye skin is thinner than that across the rest of the face, and dark circles can appear as we grow older and collagen levels start to reduce rapidly after our late 20s and early 30s.
Dermal Fillers for Cheeks
The cheek area can be defined and increased in volume, resulting in a lifting effect. As the skin hollows, it can leave this area looking gaunt, particularly in individuals who already have a hollow bone structure in their youth. Dermal fillers restore this volume, filling out the area.
Dermal Fillers in the Nose
Also known as non-surgical rhinoplasty, a dermal filler nose job is another use of injectables that have soared in popularity recently. It's often used as a 'try before you buy' treatment before surgery, with patients trying it out to see how the effects of surgery might look on their noses.
However, the results with dermal fillers can often be far more predictable than surgery, especially if you visit an experienced doctor or dentist with a solid background in planning and executing the injectable treatment.
How Long Do Dermal Fillers Last?
Post-treatment, you will notice an instant change in your facial anatomy and/or skin. The results can be seen approximately 2-4 weeks after treatment, and the fillers are reabsorbed into the skin after several months. The number of months the dermal fillers last will depend on factors like your lifestyle, genetics and the brand or type of filler used.
The two most long-lasting brands on the market are Juvéderm® and Restylane®. These two brands of dermal filler have different textures: Juvéderm®'s smooth texture means it's more effective at reducing fine lines and wrinkles in areas where the skin is tight, whilst Restylane® is a more cohesive filler, making it suitable for padding out hollow parts of the face like the cheeks and under the eyes where volume has depleted.
Do Dermal Fillers Work Faster Than Creams?
Anti-ageing creams (especially those with a high percentage of active ingredients) are, no doubt, effective for long-term skin nourishment and health. Dermal fillers take the crown when it comes to being more fast-acting, though, and the results are more dramatic.
This said it's not an either/or argument – you should have an appropriate skincare routine using products like creams, serums, and SPF for your skin type, even if you regularly have dermal fillers treatment. Dermal fillers will accentuate the results of your skincare routine and vice versa. Opt for a hyaluronic-acid-based cream and a serum containing antioxidants to retain skin moisture, brightness, texture, and tone.
Are Dermal Fillers Worth It?
A recent survey by Vice UK found that injectable treatments are considered as commonplace as getting a haircut or a manicure by 59% of those surveyed.
Whilst it's a much more invasive process, dermal fillers are in no way comparable with the involved treatment process and unpredictable results associated with surgery. There is no recovery time, and the treatment takes 30-45 minutes.
You must check doctor or clinic reviews and qualifications to find a reputable practitioner to perform dermal filler treatments. Ultimately, dermal fillers can be an excellent way to enhance facial features and help you look younger with minimal downtime. The final decision should always be yours.