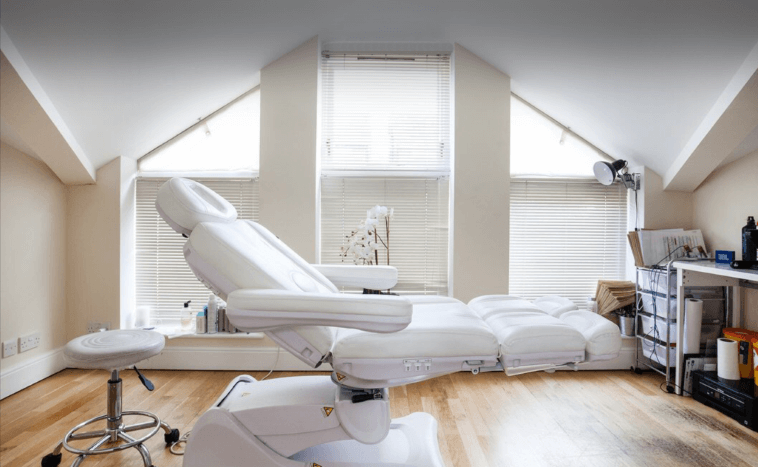 We love having the opportunity to review some of the best aesthetics clinics around England – it's something we feel privileged to be doing. We hope our readers benefit from the testimonials we give.
This week's featuring clinic is Skin NV, based in South West London, in Elm Bank Gardens, Barnes. The clinic is big on celebrating the individuality of its patients, aiming to deliver treatment that is as unique as they are, whether it's for the face or body or to address specific conditions. The Skin NV team's commitment to delivering treatment stretches beyond what most clinics offer: patients can access online sessions. It's an ideal choice of clinic for busy people with time and practical constraints.
The Skin NV Philosophy: Purpose, Belief, Aftercare
The foundation of Skin NV is appealing to anyone looking for high-quality medical aesthetics treatment. Dr Natasha Verma, owner and Clinical Director of SkinNV, has a clearcut philosophy when considering what it means to invest in your skin and your long-term well-being:
'Looking after yourself is not a treat; it's a lifestyle.'
Dr Natasha
All Your Skincare Needs In One Place
Skin NV is a haven for all your medical skincare needs, offering facial and body treatments. Something as important as your skin should be in the hands of true professionals, and you shouldn't have to go to multiple clinics for different treatments.
Skin NV offers a breadth of non-surgical medical aesthetics treatments. Their treatment selection has been carefully curated based on the science supporting clinically-proven treatments and the needs and expectations of their discerning patients. Injectable facial treatments such as hyaluronic-based fillers and wrinkle correction treatments are offered to prevent and eliminate signs of ageing, improve symmetry, and reduce and eliminate scarring. Meanwhile, condition-orientated treatments like acne and pigmentation treatment can also be accessed. But it's not just treatments for the face that are available.
Finding a clinic that can maintain quality across such a vast menu of treatments is hard to find – but Skin NV has mastered this art down to a tee.
A Stunning Clinic With A Boutique Vibe
The initial in-clinic consultation includes a personalised skincare regime and fully tailored lifestyle and nutritional guidance. This boutique feel and approach made it easy to relax in new surroundings (going to a new clinical environment for the first time can feel a little daunting!).
The conversation with Dr Natasha was beneficial: not only is she a natural listener, but we were also sent away with helpful information such as what kind of ingredients to look for when choosing products, information about the correct percentages of active ingredients to look for, and an honest assessment of the skin concerns we had, and what it would take to improve them.
Asian Beauty and Skin Specialists
Dr Natasha and her team have the capacity and knowledge to help you, whatever your skin type. They can also offer specialist skin and hair care for Asian skin. They appreciate the specific differences that set Asians apart, including:
Hair: the clinic understands that Asians can be conscious about their hair condition, a symbol of femininity in Asia. Hair loss can be more obvious in comparison to hair loss in Caucasians.
Products: Asian-specific products contain ingredients, which penetrate through the thicker dermis that Asian skin characteristically has.
As an Asian woman, Dr Natasha Verma understands the particular aesthetic hair and skin concerns Asian patients have (she has been nicknamed 'The Asian Skin Doctor'). Dr Verma is also deemed an expert in the management of acne, hair loss and dark circles in Asian patients.
A Little More About Dr Natasha Verma
Dr Natasha Verma has over 10 years of experience in numerous dental and surgical specialities. She also offers treatment for gummy smiles and tooth grinding (she is fully registered with the General Dental Council).
Why Have A Dental Professional Perform Your Skin Rejuvenation Treatment?
Skin rejuvenation and dentistry are much more intertwined than you might think.
Consider how much dentists must study a person's face, the musculature, the blood supply, anatomy how their facial features are balanced, and how much planning they do when mapping out how cosmetic treatment can change their facial makeup. Then consider the dexterity they need to perform these treatments successfully. They are the only medical professionals that carry out injections multiple times on a daily basis. There is a huge crossover into skin rejuvenation treatment, which many dentists now perform up and down England.
We highly recommend seeing a medical professional like Dr Natasha for treatment that involves remodelling skin, even if it is non-surgical. As a dentist, and head & neck surgeon, she is well-placed to deliver more predictable and safe treatment. As mentioned above, she is particularly experienced at carrying this out for those with Asian (Indian) heritage.
Don't Forget To Read Those Reviews!
Want to know more about what patients of Skin NV think of their experience at the clinic? Take a look at their Google reviews. When choosing a new clinic for skincare treatment (non-surgical or surgical), we suggest doing your research first, which should always include checking out the reviews.