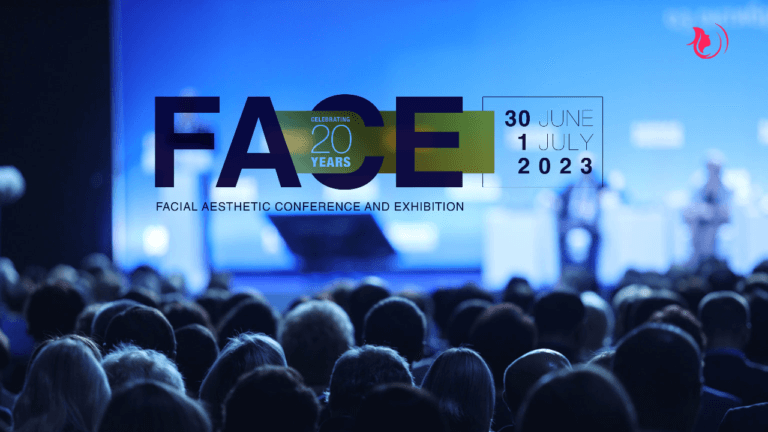 This summer, London was buzzing with excitement as it played host to the highly anticipated FACE Conference 2023.
The conference, which took place from 30 June to the 1st of July, was a vibrant blend of scientific innovation, knowledge sharing, and networking opportunities for the medical aesthetics industry. In honour of its 20-year milestone as a medical aesthetic conference in the UK, the FACE Scientific Committee curated a special programme that reflected on the progress made in the aesthetic and anti-ageing industry. As always, it was a fantastic learning experience for everyone involved.
The Attendees & Atmosphere
Drawing in an impressive crowd of over 2,000 attendees, the event brought together a diverse mix of dermatologists, cosmetic surgeons, aesthetic physicians, dental surgeons, skincare experts, researchers, and thought leaders. The atmosphere was charged with anticipation and curiosity, creating a perfect environment for learning and collaboration. As usual with these conferences, the first day, Friday was a much busier day than Saturday, although both days were successful in engaging the visitors.
Themes & Objectives
Science remains the cornerstone of the conference and this year's event was no exception. The 2023 agenda showcased thought leaders in aesthetic medicine that with their expertise, best practices, and top techniques helped all the attendees enrich their knowledge. The conference centred around several key themes that mirror the evolving trends in the aesthetic science field. The spotlight was on "Next-Gen Aesthetic Technologies," "Holistic Approach to Beauty," and "Sustainable Practices in Aesthetic Science." The objective was to provide a platform for professionals to share their knowledge, inspire innovation, and foster meaningful connections.
Agendas included:
Business
Skin
Equipment
Threads
Regenerative Medicine
Hair
Keynote Speakers
The event boasted an incredible lineup of keynote speakers, featuring pioneers and innovators in the field of aesthetic science. As one of the few UK events that invite international speakers, FACE made this a global experience for professionals in medical aesthetics. The insightful talks of this year's speakers offered a glimpse into the future of aesthetic medicine, exploring cutting-edge technologies and holistic approaches to beauty. Some of the most notable were:
Uliana Gout
Todd Schlesinger
Ali Pirayesh
Simon Ravichandran
Kay Durairaj
Bob Khanna
Ana Silva
Eleni Makropoulou
Jean Pierre Amsellem
Jaishree Sharad
Dario Bertossi
Kim Booysen
Kate Goldie
Raul Cetto
Sonja Sattler
Rashmi Shetty
Emma Ravichandran
Kam Lally
Lee Walker
Vincent Wong
Michael Gold
Vladlena Averina
Tahera Bhojani-Lynch
Martina Kerscher
Jesper Thulesen
Wendy Lewis
Location & Layout
London, with its rich history and dynamic energy, served as the perfect backdrop for the conference. The city is one of the centres of aesthetic medicine in Europe with a large consumer base and numerous clinics. The venue in Intercontinental London, at the O2, was meticulously designed to encourage interaction and collaboration, with a mix of keynote sessions, interactive workshops, and engaging panel discussions. It is a large and impressive venue with the scenic backdrop of the Canary Wharf area in the London Docklands.
Networking Opportunities
Alongside the educational content, the organizers understood the importance of networking. They curated several events, including a welcome Summer cocktail reception on Friday 30th of June at a 5-star venue, themed lunch breaks, and a closing gala dinner, allowing attendees, speakers and exhibitors to connect and exchange ideas in a relaxed setting.
List of Exhibitors
| | |
| --- | --- |
| Wigmore Medical | Italfarmacia |
| Zo Skin Health | Libi & Daugthers |
| Evolus | Love Cosmedical |
| Dermapenworld | Medira |
| Laboratoires Vivacy | Miring Usa |
| Hydrafacial | Monika Heiligmann |
| Inmode Uk | Neogen Plasma |
| Sesderma | Opatra |
| Exhibitors | Pine Bm |
| Archidemia | Provida Paris |
| Atoa Payments | Quantificare |
| Beautyeurope | Regen Lab |
| Crown Aesthetics | S.Thepharm |
| Cutera | Sciton |
| Dermalux | Shanghai May Skin |
| Dermaqual | Sofwave |
| Dermconcept | Solta Medical |
| Dfkbiolab Inc | Targetcool |
| Evocyte | Ultra V |
| Fotona | Venome |
| Gama Healthcare | Yotsuba Japan |
| Genoss Co | Zenoti |
| Hypo21 | Zero Gravity Skin |
Trending Topics
The conference highlighted some of the latest trends in the industry like:
The integration of virtual and augmented reality in aesthetic procedures
The rise of personalized skincare based on genetic testing
The ascendance of exosomes to enhance treatments
The widespread usage of diagnostic equipment to detect skin conditions
The increasing focus on sustainability in aesthetic practices
Impact on the UK Aesthetics Industry
The FACE Conference 2023 not only provided a platform for learning and networking but also helped shape the future of the UK aesthetics industry. By showcasing innovative technologies and practices, the conference is pushing the boundaries of aesthetic medicine, encouraging practitioners to adopt more sustainable practices and offer more personalized, holistic treatments.
In conclusion, FACE Conference 2023 was more than just an event – it was a celebration of the past, present, and future of aesthetic science. As we navigate this ever-evolving landscape, it's clear that conferences like FACE are pivotal in driving the industry forward. Here's to another year of innovation and growth in the world of aesthetic medicine.
About FACE
With 20 years of expertise, FACE stands as the sole conference in the UK that offers comprehensive agendas, training and demonstration sessions dedicated to all the core aspects of the non-surgical aesthetic market. Medical practitioners can anticipate receiving truly scientific content from genuine experts on an array of subjects around beauty. The educational programmes at FACE serve as a bridge, connecting the current state of academic training with the innovative developments consistently emerging in the aesthetics and dermatology sector in the UK and abroad.
The members of the FACE scientific committee and experts embody every discipline within the field of aesthetics. Their years of educating doctors and advancing aesthetics are invaluable to those that are learning. With contributions from both UK-based and international top practitioners, the quality of scientific research available at FACE is high.