Who are Fiore Aesthetics?
Since the lockdown periods, the non-surgical aesthetics market has been back in full swing. With clinics opening their doors all around the country, it can be challenging to select the proper establishment for your needs. Based in London's iconic Covent Garden area, Fiore Aesthetics welcomes patients from everywhere in the world.
You should always seek treatment from a clinic with doctors at the helm, and this is the case at Fiore Aesthetics. The clinic is led by doctors and aesthetic practitioners who have worked in the industry for many years. The team's collective knowledge and advanced skills have enabled the clinic to win awards and provide 5-star service and, just as importantly, a warm and friendly welcome to anyone who visits.
Fully qualified UK GMC registered doctor Dr Asel Usupbaeva has been working at Fiore Aesthetics and brings her 20 years of medical experience to the clinic. Hence, patients are in the safest hands. Dr Asel has completed a wide range of advanced aesthetic training and is a self-confessed perfectionist; she's always looking to get the most optimum outcome for her patients by getting to know them and carefully planning treatment that revolves around their unique facial anatomy.
If you're considering non-surgical aesthetics treatment, it's this tailored approach you should be looking for. A reputable non-surgical aesthetics clinic will always provide completely bespoke treatment, and that's precisely what you can expect at Fiore Aesthetics.
The Fiore philosophy of 'beauty for everyone.'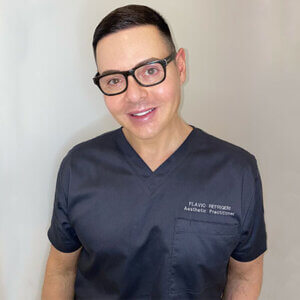 The all-inclusive Fiore Aesthetics philosophy of 'beauty for everyone' is something that resonates throughout the clinic. It's their belief that there's no one type of person who chooses to opt to have facial aesthetics treatment and that every person should be treated as an individual.
Clinical Director and Founder of Fiore Aesthetics Flavio Refrigeri opened the clinic with a view to it being a down-to-earth setting that patients genuinely want to spend time in. This atmosphere is certainly palpable when you visit the clinic each and every time.
A variety of treatments, all under one roof
For individuals battling the relentless march of time, there is a line of Anti-Wrinkle Injections, a minimally invasive solution to restore youthfulness and vitality to the skin. The clinic's expertise extends to the art of facial contouring with Dermal Fillers, offering tailored treatments for the lips, under-eye, nose, cheeks, jawline, chin, and nasolabial folds, each meticulously administered to sculpt and define with natural-looking results.
The Seventy Hyal 2000 stands as a testament to the clinic's commitment to cutting-edge treatments, providing deep hydration and improved skin texture. Skin Boosters and Mesotherapy are the clinic's answer to revitalizing dull, tired skin, infusing it with a cocktail of vitamins, enzymes, and plant extracts to promote a radiant complexion.
For those seeking to address more specific concerns, Carboxytherapy and Profhilo offer targeted solutions, the former improving circulation and the latter delivering ultra-pure hyaluronic acid for skin that is firmer and more luminous. PRP/PRF Therapy harnesses the healing power of the patient's own blood to rejuvenate the skin, while Skin Needling and PPP Filler Plasma are innovative approaches to stimulate collagen production and repair.
The clinic's repertoire includes a variety of microneedling techniques, from the Manual Derma Roller to the precision of the SkinPen Microneedling, each designed to create microchannels in the skin, encouraging regeneration and repair. When combined with PRP Plasma, the treatment is supercharged for enhanced results.
Fiore Aesthetics also offers a range of IPL Treatments, utilizing intense pulsed light to address a multitude of skin issues such as rosacea, sun damage, vascular lesions, and acne. For those seeking to reverse the signs of ageing on the hands, the Hands Rejuvenation IPL is a specialized treatment that restores a youthful appearance to one of the most tell-tale areas of ageing.
The clinic's laser treatments are a cornerstone of its practice, with options for Laser Face Treatment, Scar Reduction, and Stretch Mark Reduction, each utilizing the latest technology to deliver precise and effective results. Fat Freezing and Cryolipolysis represent the clinic's foray into body contouring, offering non-surgical options for fat reduction alongside Aqualyx, a treatment designed to dissolve stubborn fat deposits.
Hair restoration is also within the clinic's purview, offering IPL Hair Removal for long-lasting smoothness and PRP/iPRF Hair Restoration to combat hair loss with regenerative techniques. The B12 Injection is a quick wellness boost, vital for maintaining good health and energy levels.
Fiore Aesthetics believes in the power of a good facial, offering everything from the oxygen-infused vitality of the Oxygen Facial Therapy to the deep cleansing properties of their signature Deep Cleanse. Microdermabrasion provides a non-surgical way to freshen and rejuvenate the skin, while LED Light Therapy and a variety of Skin Peels, including the specialized Me Line Peel, offer a spectrum of solutions for skin resurfacing and rejuvenation.
The clinic's PMP Bio Stimulation is a cutting-edge treatment designed to awaken the skin's natural regenerative processes, rounding out an extensive portfolio of services that make Fiore Aesthetics a premier destination for those seeking to invest in their skin's health and beauty.
Flexible opening hours to suit everyone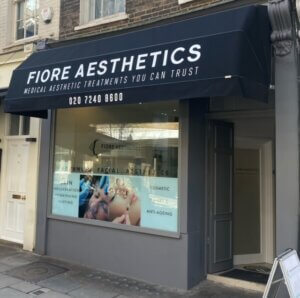 Fiore Aesthetics understands that their patients are busy, as reflected in their opening hours, which run from Monday-Friday, 10 am – 8 pm. So, if you work in central London but can't make it to an appointment right after finishing a 9-5, these opening hours may be ideal for you, allowing you to have the treatment you need without booking time off work.
Testimonials that speak volumes
A good way of confirming if a clinic is worth its salt is to check the patient reviews, where you will find an honest analysis of the different services. Here's just one example of the many positive reviews Fiore Aesthetics has received:
What a gem! I literally glowed after my facial and felt so very happy with the facility and the facial treatment. Superb service, staff are very professional and yet friendly. I definitely will come back next month. Why didn't I discover this place sooner?!
Read through all their testimonials here.