Winter 2021 has arrived, along with some fresh and exciting make-up trends. With the majority of us wearing masks everywhere we go in an effort to keep ourselves and each other safe, many of this season's trends are focused around the windows to the soul – the eyes.
Graphic eyeliner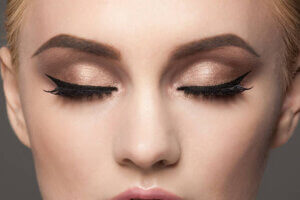 Graphic eyeliner dominated Instagram towards the end of 2020 and it doesn't look to be going anywhere in a hurry.
A very accessible look, graphic eyeliner offers an easy way to experiment with colour, which will be particularly appealing to those who don't necessarily want to learn how to blend eye shadow.
Try different shapes and use the negative space to achieve a look you love – if you prefer having a little more control when doing your brows, opt for a gel liner.
Get that glow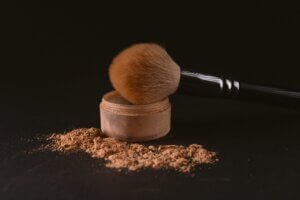 Winter is a time we all tend to spend less time outside and with the recent lockdown, this time is sure to be cut short. With this in mind, why not embrace a bit of glow to give the impression you've been out getting that all-important dose of vitamin D?
Enhance skin tone by using a bronzer and make sure you choose one appropriate for your skin tone; that's liquid for dry skin and powder for oily skin. Top this off with a pink blusher to give that sun-kissed look you might be missing out on right now.
If you do have an outdoor space to use, try and get a dose of sunshine – not only will it leave your skin glowing, it's also great for your mental health. Use hyaluronic acid-rich products to keep your skin hydrated and full of volume.
Blue on blue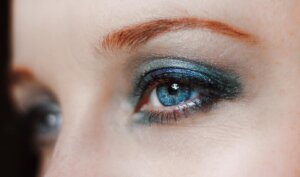 Choose a cobalt blue eyeshadow and eyeliner to embrace your inner icy winter queen!
Veering away from the more traditional neutral choices of shade doesn't mean you can't achieve a timeless and sophisticated look – blue eyeshadow and eyeliner combinations have the potential to look great.
Mascara mastery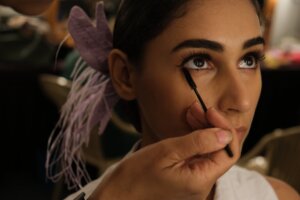 Mascara can be a bit problematic during the winter months, especially on those cold and windy days – it's easy to get home from a walk and find black liquid lines dripping down your face, thanks to the elements!
Try using waterproof mascara for your lower lashes close to the tear duct area as this will help to stop it trickling, should your eyes get watery. We also recommend using a conditioning eye make-up remover to stop your mascara drying out, as waterproof formulas can cause this.
If you're looking for that full and thick effect, after coating the front of your eyelashes (as you normally would) do the same to the backside of your lashes and try flicking the brush up for an extra lift.
When has there ever been a better time than lockdown to try out some new tips?! If you've experimented with new styles this winter, leave us a comment to let us know!