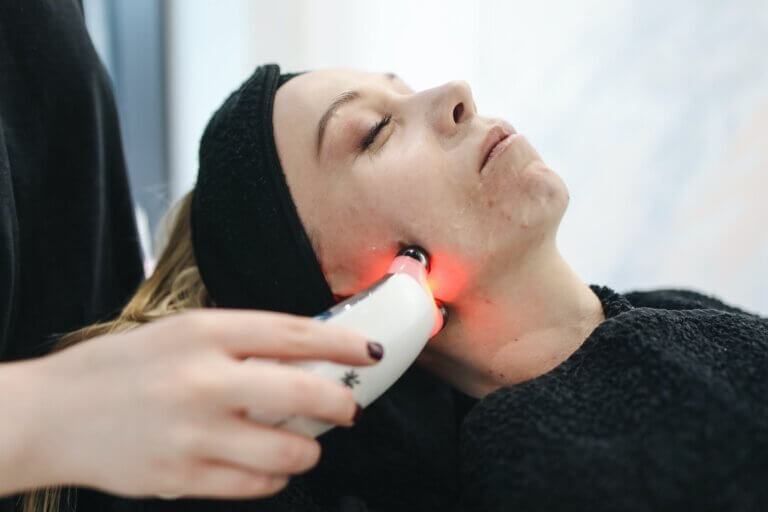 The world of dermatology continues to discover how retinoids improve ageing skin, and the skincare industry is undoubtedly becoming more scientific.
There is so much information available about skin care – perhaps too much, and that's why there's a lot of confusion. Despite it being agreed that retinoids stimulate the skin, some seem determined that skincare products serve little purpose.
Some of the common misconceptions surrounding quality products involve the myth that all of the products on the market work pretty much the same. Or that it's essential to choose an all-natural, 100% green skincare line.
But the world of dermatology continues to discover how retinoids improve ageing skin, and the skincare industry is undoubtedly becoming more scientific.
Unveiling the skincare prototype of the future
Launching a new skincare product at the In-Cosmetics Global trade show in Paris, Dr David Heath has unveiled the prototype which tells customers how much beauty product they need by analysing their skin.
An app-based device, it works by tracking the hydration of the skin and then uses information, such as their environment and the temperature, to recommend the right amount of a product. The product is not discriminatory to certain brands; it can be personalised for any product, no matter whether they're at home or lying on a beach.
The device, called 'The CutiTron' – was designed from Heath's work at Strathclyde University, investigating how drugs could be delivered through the skin.
"I presented at a skincare conference that I thought was more the medical side and it turned out it was more on the cosmetic side"
Dr Heath said he has learned a huge amount about the cosmetics industry while developing his product. Heath added that his own attitude to skincare had completely changed after exploring the level of science used to develop new industry products.
The Cynic
Timothy Caulfield, writer of 'Is Gwyneth Paltrow Wrong about Everything?' published a 2015 book exploring the negative impact celebrity endorsement has on public health. Whatever the book's sociological ideas, sections are pointlessly devoted to doubting the science behind skincare.
But Caulfield is less interested in the process of improving his skin than he is in writing an article. His cynicism stems from his position as a writer arguing the negatives of cultural ideals, rather than fairly judging these formulas as effective solutions.
It seems slightly careless to discredit brands that make quality products when you consider that many of these use a scientific formula to battle debilitating conditions, such as the likes of acne scarring.
From burns to beauty
As advancements in medicine continue, the stories of certain specialists emerge. More and more scientists and biomedical professionals are finding their way into the skincare industry.
Not dissimilar to Dr Heath, who found his way to the skin care industry from a biomedical engineering background.
Professor Augustinus Bader, a leading expert in regenerative medicine, has come to release his own skincare brand. Currently one of the most searched brands on Google, despite only having arrived in the UK last year, Bader's creams support the body's innate renewal process.
A Professor of applied stem cell biology and cell technology, Professor Bader has been working with burns victims for 30 years. An innovator and a humanitarian, he has spent much of his life working with victims of disfiguring burns, with the goal to eliminate the trauma of life-long burns sufferers.
What Professor Bader has learned has taken him directly into the world of cosmetic skincare and his breakthrough medical treatment. The key to both creams' transformative properties is TFC8®, our proprietary Trigger Factor Complex.
TFC8® comprises natural amino acids, high-grade vitamins, and synthesised molecules naturally found in the skin. They help to visibly reduce the signs of ageing and damage caused by environmental stressors and leave skin looking restored, regenerated, and healthy.
So why the scepticism?
It's possible that you can over-indulge in skin care and customers can choose products that are harmful to their specific skin condition. Don't fool yourself into thinking the health of your skin is dependent on your routine of fifteen different products.
When it comes to skincare products that contain elements that are regulated as drugs, this is because these masks and serums include active ingredients proven to treat certain conditions. Retinol, for example, is a common treatment for acne.
Of course, customers want a product that performs. The reason some products may be ineffective is that the majority of cosmetics do not penetrate more than 10 or 15 layers of the skin. While products work at a molecular level, they may not necessarily affect the epidermis.
While it's true that sometimes the terms 'clinically proven' or 'dermatologist approved' written on the back of your product can have little meaning or value, there are definite methodical trial and error experiments that go into synthetic skincare, leading to genuinely effective shelf products for certain individuals.
That said, whether you suffer from acne, have a recurring skin condition, or simply want to set yourself up with a personalised skincare regime, visiting a professional skin clinic may increase your chances of getting you on the road to a healthy complexion.
There are many non-invasive skin treatments that can improve tone and elasticity, and most clinics offer a free consultation so that you can discuss your options and find which course of action is best for you. It's vital that you are educated when embarking upon your skincare experience. Make smart skincare choices.