Are you experiencing and noticing signs of ageing on your skin? You might want to consider a non-surgical treatment option to restore your youthful looks. Sunekos is a fantastic skin rejuvenation treatment that can help you achieve and maintain excellent results.
As we age, the skin degrades and lines and wrinkles form. The skin thins, becomes fragile and as a result, looks dry and dehydrated. Advanced injectable treatments such as Sunekos are amazing for combating and turning back time on ageing skin. 
What is Sunekos?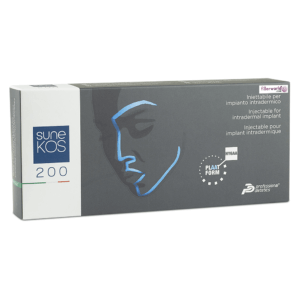 Sunekos is an intelligent injectable substance containing compounds that are vital building blocks for healthy and hydrated skin. It is a dermal biogenesis treatment which literally means skin regeneration.
Sunekos is formulated using a unique cocktail of Hyaluronic and Amino acids. It is a non-surgical injectable treatment that can be used on the neck, décolletage, face, arms, hands, knees and inner thighs.
The amino acids included are glycine, L-proline, L-leucine, L-lysine HCI, L-valine and L-alanine. Hyaluronic acid already causes skin biorevitalisation but when we add these amino acids to the mix, the rejuvenation process goes into overdrive.
The difference between Sunekos, Fillers and Botox
Whilst Sunekos contains Hyaluronic Acid, a major ingredient of fillers, Sunekos injections do not physically plump the skin in the same way as fillers. The aim of Sunekos is to naturally heal and mend the skin without forcing a shape.
It is a great alternative for patients who do not want to go for fillers or Botox treatments as a means to rejuvenate their complexion. If fillers and Botox don't appeal to you, Sunekos may be the answer for you!
Sunekos injections can be used in these target areas to address skin concerns such as ageing, dryness, sun damage, acne scarring, wrinkles, fine lines and skin tone loss. It is particularly effective when dealing with skin that lacks elasticity, crepey skin, sun-damaged areas and dehydrated skin.
How does Sunekos work?
As mentioned above, Sunekos is formulated using Hyaluronic and Amino Acids. These compounds are vital to skin laxity and rejuvenation. The unique formula is patented and stimulates fibroblasts which, in turn, produces extra elastin and collagen. Elastin and collagen are the building blocks of the dermis and skin. Activating the production and addition of both these building blocks will help make skin firm again, hydrated and supple to the touch.
This entire rejuvenation process has a massively positive effect on the ECM (Extra Cellular Matrix). The ECM is found under the dermis and is a web of proteins and carbs on the surface of cells responsible for supporting the shape and health of skin cells. You will find that your skin feels well hydrated following treatment both on a superficial and deeply layered level.
Two different types of Sunekos
There are two different types of Sunekos treatments available:
Sunekos 200

: The first treatment type is ideal for patients who have spotted signs of ageing and skin ageing at a very early stage. This type allows you to address these issues before they get out of hand.

Sunekos 1200

: This treatment is perfect for older patients who have deeper lines and wrinkles in their skin. Sunekos 1200 is great for rejuvenating loose skin and sagging.
What does the treatment involve?
Sunekos treatment is completed across usually four sessions, all at least a week to 14 days apart. Each session takes 30 minutes and all sessions must be completed for the treatment to fully take effect.
Because this is an injectable treatment, although non-surgical, you may experience some mild bruising and swelling at the site of the injection. Other than this minor bump, patients can expect no downtime and a visible skin recovery within just a few hours of the treatment happening.
How long do results last?
Whilst some patients will notice a change in their skin tone and a more youthful appearance after the very first treatment, the most noticeable results will come after all four treatment stages have been worked through.
Results typically last for 6 months/half a year. It is also recommended to arrange follow-up maintenance appointments at around the 5-month mark after treatment to sustain the desired youthful look. 
In Conclusion
Sunekos is perfect for patients with advanced signs of ageing. The uniquely patented formula of Hyaluronic and Amino Acids helps to strengthen and fortify the skin; helping you achieve a rejuvenated and youthful look.