If you have thin eyebrows, you may want to add more volume but struggle to know where to start.
Brow lamination and Microblading are eyebrow trends that can help add volume to your brows. But we can already hear you, brow lamination? Microblading? What are they, what are their benefits, and which one do I go for?
Today, we will break down both eyebrow trends and hopefully let you decide which is best for you!
Brow Lamination
What is Brow Lamination?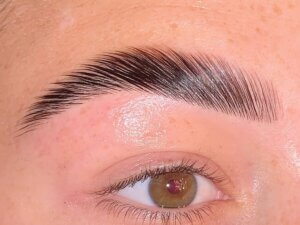 A newish eyebrow trend that has taken the internet by storm, Brow Lamination is a Russian treatment that basically perms your eyebrows. The difference to a regular perm is that it does not involve any curling. Instead, a setting lotion is used to shape your eyebrows in the desired direction and shape.
Using Brow Lamination, you can make your eyebrows look fuller.
How does it work?
There are four steps to a Brow Lamination appointment. They are:
Your stylist applies a cream that lifts your eyebrows.
Then they brush the hairs in a uniform direction and shape.
After this, the setting lotion is applied to keep your eyebrows in place.
And finally, some oil will be rubbed in to decrease the chances of skin irritation.
Brow Lamination treatment usually takes just under an hour, with results typically lasting for three to six weeks.
The benefits of Brow Lamination
Brow Lamination is significantly cheaper than microblading, requires far less maintenance and is relatively painless compared to microblading. Brow Lamination is also not permanent, which is great because it allows you control over your loom and appearance.
The Side Effects of Brow Lamination
For all intents and purposes, Brow Lamination is a safe treatment. However, you should be aware that because harsh chemicals are used, skin irritation can be caused, especially if you have sensitive skin.
Microblading
What is Microblading?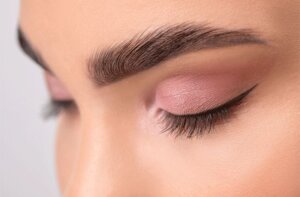 Microblading is an option for you if your brows are starting to thin. This is because Microblading is cosmetic tattooing where non-permanent ink is used to create hair-like strokes in the eyebrows. A special Microblade tool breaks the skin but does not go as deep as a normal tattoo. This is why the ink is only semi-permanent.
The benefits of Microblading
Unlike Brow Lamination, Microblading can give the appearance of eyebrows even if you have really thin eyebrows or none at all. Brow Lamination requires something to work with, but Microblading uses its own ink. It is also low maintenance once healed and has far longer-lasting effects than Brow Lamination, which requires more frequent retreatments.
And also, you cannot underestimate the control Microblading gives you and your stylist. You can create a shape and pigment that complements your face because Microblading gives you full control!
The downside of Microblading
Microblading is quite expensive and can be a deep spend depending on where you get it done. Furthermore, because Microblading breaks the skin, there is a risk of infection as well. However, stylists usually provide aftercare as a rub or oil to minimise infection risk.
Whilst there are definitely benefits to the semi-permanent nature of Microblading, if it is poorly done or you regret your choice, it is difficult to conceal and undo.
What are the main differences between Brow Lamination and Microblading?
Both these treatments achieve amazing results, but the main differences between the two are:
Longevity: Brow Lamination is a perm, whilst microblading is a tattoo. Lamination lasts 3-6 weeks, while microblading lasts 2 ½ years on average.
Minimum Brow Requirements: Brow Lamination needs natural hair to comb over in order to hide gaps and achieve a naturally full lock. Microblading doesn't require natural hair, as hair-like strokes add the appearance of fuller brows.
Brow Lamination vs Microblading: In Conclusion
Only when informed, can we make the right and proper decision. We hope this breakdown of Brow Lamination and Microblading has made it clear what the two treatments are, their benefits, drawbacks and differences.
And, no matter which treatment you choose, research the company or clinic you visit. Check their reviews and see what other customers say before choosing!