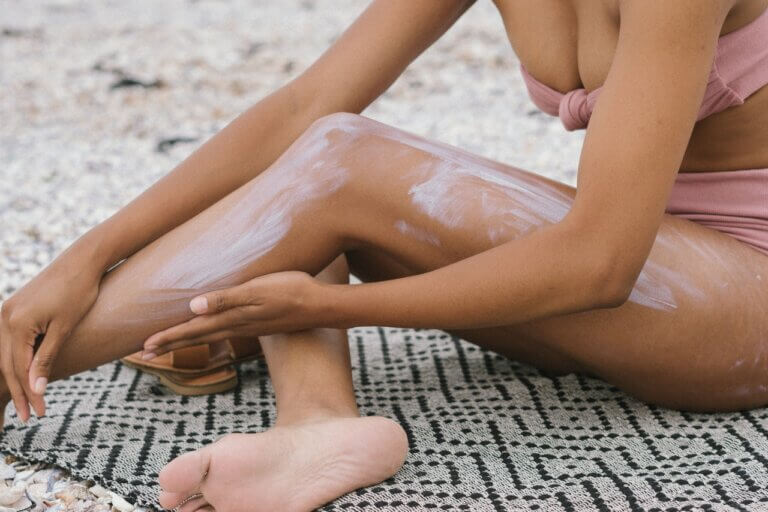 It's British summertime! And it's likely that an increasing number of us will turn to fake tan to get that healthy sun-kissed look, seeing as holidays abroad are a no-no for many of us right now. But how do you go about choosing a fake tan that doesn't result in the Donald Trump look?! Here is our guide to how to go about choosing the best fake tan for your skin.
How to choose your shade
Fortunately, today there are a number of fake tans available for a diversity of skin types, so even those with very fair skin can still achieve a bronzed look.
For a natural tone, choose a shade that isn't on the extremely warm or cool side and experiment with different shades on a small portion of your body to find the best option.
Don't commit to tanning your whole body before you have found the one you're happy with or you could end up like Ross from Friends in that iconic tanning episode!
Pale skin

If your skin is fair and on the paler side, you might want to consider gradual tanning options that start out by giving a subtle tan and allowing you to build towards the desired tone.
Check out St Tropez Everyday Gradual Tan Body Lotion. As mistakes are more likely to show on paler skin this allows you to go about it by trial and error – if it goes badly, you can always use the excuse of going into lockdown again!
In all seriousness though, if you are a little anxious about it not turning out quite the way you'd have liked, use an app to try a few out interactively.
Medium skin
Those with medium skin can use a fake tan that brings out the natural radiance of their complexion.
Bondi Sands are a market leader in fake tan products, notably their light/medium tanning foam which is designed for those who don't want to go super dark and instead, accentuate their already olivey complexion. As it's a moose, it's easy to control where you apply it and is well-known for being long-lasting and a great moisturiser.
Dark skin

If you're lucky enough to already have skin that's naturally bronzed and soaks up the rays with ease, a formula like Loving Tan ultra bronze foam can give you a balance between sun-soaked and olive, with a very subtle orange finish.
This popular product works instantly and develops into a deeper and darker tan within a mere 8 hours. Not only is it fragrant but fast-drying and professional-strength.
If you're looking for a fake tan that contains a high SPF factor (because dark-skinned people need to protect from UV rays too!) Nars Laguna Body Tint is another good pick.
How best to apply your fake tan
So you've chosen your ideal fake tan and it's now time to apply it. Here are a few must-knows:
Exfoliate. Make sure you exfoliate to avoid dry areas of your skin picking up colour more than other areas – you want a nice even tan. Don't neglect areas like your elbows and knees, which are particularly prone to dryness.
Protect your hands. When your palms are exposed to fake tan for sustained periods it can stain the skin – use a hand mitt to achieve this. Use long sweeping motions to apply it
Moisturise. This will help avoid dryness post-application.
Get your timings right. Make sure you read the instructions carefully on the specific brand of your fake tan as each is slightly different. The period of time before you can shower may vary from fake tan to fake tan.
Happy tanning! Remember that if you head out to enjoy those rays, take sun cream with a high UV protection rating and high SPF number.