Do you ever feel like your skin is fighting against you? You're not alone! We all suffer from a variety of common skin conditions. From acne to rosacea, dryness, peeling, and more, the list seems to go on and on. But not to worry, it's not as despairing as it sounds! We looked into the ten most common skin conditions so that you can better understand exactly what's going on with your body and learn some tips for treating them effectively.
So if you want to get rid of those pesky imperfections (we all do!) or just gain a better understanding of how our Skin works, this is the perfect place for you.
1. Acne

Acne is a common skin condition in the UK, affecting around 95% of people aged 11 to 30 to some extent. It's caused by a variety of factors, including hormonal changes (especially during puberty and menstruation), certain medications, a diet high in sugar and carbohydrates, and certain cosmetic products. Contrary to popular belief, acne is not caused by dirty skin or poor hygiene but rather by the overproduction of oil from the sebaceous glands combined with the blockage of hair follicle openings.
There are several treatments available for acne in the UK. Over-the-counter products containing ingredients like benzoyl peroxide or salicylic acid can help to reduce the number of whiteheads and blackheads and have an anti-inflammatory effect. Prescription medications include topical retinoids, topical antibiotics, azelaic acid, and antibiotic tablets.
For severe acne, treatments such as laser resurfacing, dermabrasion, chemical peels, and a procedure called skin needling may be recommended. It's important to remember that acne treatments take time to work, usually around 3 to 4 months, and should be used consistently even after symptoms have improved to prevent recurrence.
2. Atopic Dermatitis (Eczema)
Eczema, also known as atopic dermatitis, is a common skin condition in the UK, affecting both adults and children. It's characterized by dry, itchy, and inflamed patches of skin. The exact cause of eczema is unknown, but it's thought to be linked to an overactive response by the body's immune system to an irritant. It's also believed to be genetic, as it often runs in families. Environmental factors such as allergens, irritants, certain foods, stress, and weather conditions can trigger or worsen eczema symptoms.
Treatment for eczema aims to relieve symptoms and prevent outbreaks. Over-the-counter creams and ointments containing corticosteroids can help reduce inflammation and itching. For severe cases, a healthcare provider may prescribe stronger topical steroids. Regular moisturizing is also a crucial part of managing eczema, as it helps reinforce the skin barrier and reduce dryness and itching.
Other treatments include light therapy, which involves exposing the skin to controlled amounts of natural sunlight, and systemic medications for severe cases that don't respond to other treatments. In the UK, the National Eczema Society provides resources, support, and advice for individuals affected by eczema.
3. Psoriasis
Psoriasis is a common skin condition in the UK, affecting around 2% of the population. It's a chronic autoimmune disease that accelerates the production of skin cells, causing them to build up rapidly on the skin's surface. These extra skin cells form scales and red patches that can be itchy and sometimes painful.
The exact cause of psoriasis is unknown, but it's believed to be related to an immune system issue with T cells and other white blood cells, called neutrophils, in your body. Certain triggers such as stress, smoking, infections, cold weather, and certain medications can cause psoriasis flare-ups. Treatment for psoriasis aims to stop skin cells from growing so quickly and to remove scales.
Topical treatments, including corticosteroids, vitamin D analogues, and retinoids, are often the first line of treatment. For moderate to severe psoriasis, healthcare providers may prescribe systemic medications, which are drugs that work throughout the body.
These include methotrexate, cyclosporine, and biologics, which target specific parts of the immune system. Light therapy, also called phototherapy, is another option, where the skin is exposed to ultraviolet light on a regular basis under medical supervision. In the UK, support and resources for individuals with psoriasis are available through organizations like the Psoriasis Association.
4. Rosacea
Rosacea is a common but poorly understood long-term skin condition that primarily affects the face. It's more prevalent in fair-skinned people and is estimated to affect up to 1 in 10 people in the UK. The exact cause of rosacea is unknown, but various theories suggest that factors like blood vessel abnormalities, microscopic mites, genetics, and environmental factors may play a role. Triggers such as alcohol, spicy foods, stress, extreme temperatures, and certain skincare products can cause flare-ups. Treatment for rosacea aims to control symptoms and improve the appearance of the skin.
While it cannot be cured, symptoms can be managed effectively with medical treatments and lifestyle modifications. Topical treatments like creams and gels are often used to reduce inflammation and redness. Oral antibiotics may be prescribed for their anti-inflammatory properties. In some cases, laser or intense pulsed light (IPL) treatment may be recommended to reduce visible blood vessels and persistent redness.
Regular use of sunscreens and gentle skincare products can also help manage rosacea. In the UK, healthcare providers including GPs and dermatologists are equipped to diagnose and manage rosacea, and support is available through organizations like the British Skin Foundation.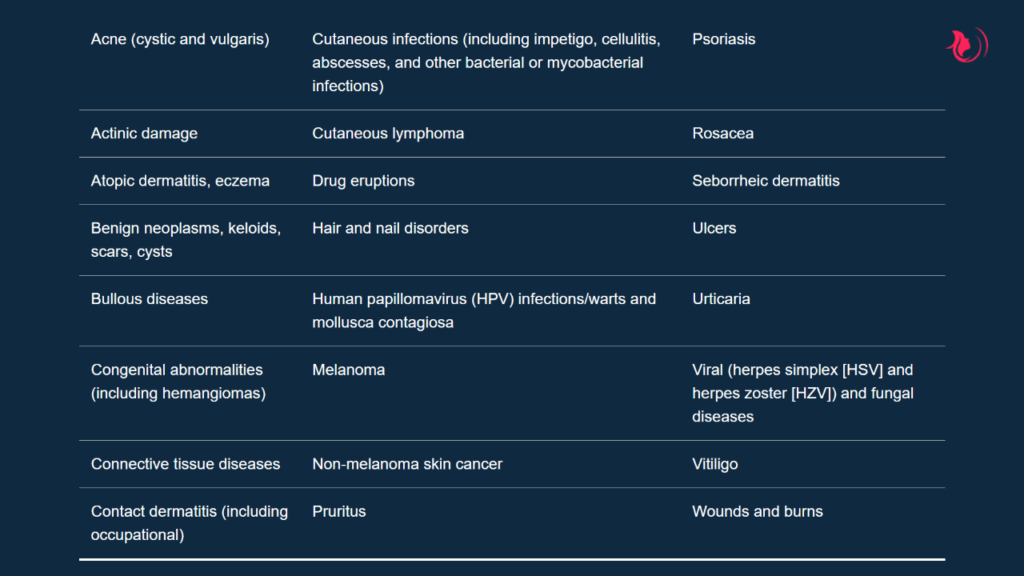 5. Shingles (Herpes Zoster)

Shingles, also known as herpes zoster, is a painful skin condition caused by the reactivation of the varicella-zoster virus — the same virus that causes chickenpox. It's most common in people over 50 years of age or those with a weakened immune system. In the UK, the incidence of shingles ranges from 3.4 to 5.0 per 1,000 person-year and increases to 7.9–8.8 per 1,000 person-year among those aged 70–79.
Treatment for shingles typically involves antiviral medications to reduce the severity and shorten the duration of the disease, along with pain management. Over-the-counter painkillers can help alleviate the discomfort, but in some cases, prescription painkillers may be necessary.
One of the key preventative measures against shingles in the UK is vaccination. The NHS offers a shingles vaccine to individuals in their 70s to help reduce the incidence of shingles and the long-term pain it can cause. If you suspect you have shingles, it's important to seek medical advice as soon as possible as early treatment can help reduce the severity and duration of the condition.
6. Alopecia Areata
Alopecia areata is a condition that causes hair to fall out in small patches, which can be unnoticeable. Over time, these patches may connect and then become noticeable, however. The condition develops when the immune system attacks the hair follicles, resulting in hair loss. According to Alopecia UK, it's estimated that alopecia areata affects 2% of the population at some point in their lifetime, including both men and women.
Treatment for alopecia areata aims to slow or change the course of the disease. Corticosteroids, which are anti-inflammatory drugs, are often used to suppress the immune system and prevent it from attacking hair follicles.
These can be administered through local injections, topical ointment application, or oral medication. Other treatments include topical immunotherapy, which involves stimulating hair growth by causing an intentional allergic reaction in the affected areas of the skin. Light therapy (phototherapy) can also be used to promote hair growth. In the UK, support and resources for individuals with alopecia areata are available through organizations like Alopecia UK.
7. Hyperpigmentation
Hyperpigmentation is a common skin condition in the UK that causes patches of skin to become darker than the surrounding areas. This occurs when an excess of melanin, the brown pigment that produces normal skin colour, forms deposits in the skin. Hyperpigmentation can be caused by sun exposure, hormonal changes (such as in pregnancy or due to contraceptives), age, acne, and certain medical conditions.
Some medications, such as antimalarial drugs and tricyclic antidepressants, can also cause hyperpigmentation. In some cases, it's genetic.
Treatment for hyperpigmentation depends on its cause and severity. Over-the-counter treatments often include creams and lotions with ingredients like vitamin C, retinoids, and hydroquinone, which can help lighten the skin. For more severe or stubborn cases, dermatological treatments may be necessary.
These can include chemical peels, laser therapy, and microdermabrasion. Regular use of sunscreen is also recommended to prevent further hyperpigmentation caused by sun damage. In the UK, professional treatments for hyperpigmentation are available at dermatology clinics across the country.
8. Hives (Urticaria)
Hives, also known as urticaria, are red, itchy welts that can appear suddenly on the skin. They occur when histamine and other chemicals are released from under the skin's surface, causing tissues to swell. The exact cause of hives can vary from person to person, but common triggers include allergic reactions, infections, stress, or exposure to certain physical conditions like heat, cold, or pressure.In terms of treatment, most cases of urticaria in the UK don't need specific treatment as symptoms are usually mild and often get better within a few days. However, if symptoms persist or are particularly uncomfortable, treatments are available.
Over-the-counter antihistamines are often used to reduce itching and swelling. A general practitioner (GP) might prescribe stronger antihistamines, menthol creams to soothe the skin, or steroid tablets for more severe cases. If hives do not go away with these treatments, patients may be referred to a skin specialist (dermatologist) for further investigation and management. It's important to note that while treatments can manage the symptoms of hives, they do not cure the condition. Avoiding known triggers is an essential part of managing hives.
9. Warts
Warts are common skin growths that are caused by an infection with the human papillomavirus (HPV). They appear as small, hard bumps on the skin and are most often seen on the hands and feet. There are over 70 known HPV subtypes, some of which are more likely to cause warts than others.
Warts can spread from person to person, and they can also spread around the body through touch. Genital warts, a specific type of wart, are the most common viral sexually transmitted infection diagnosed in the UK. Treatment for warts in the UK varies depending on the type and location of the wart. Many warts will go away on their own without treatment, though this can take months or even years.
Over-the-counter treatments such as salicylic acid can help speed up this process. For stubborn or painful warts, or warts in sensitive areas, a healthcare professional may recommend treatments such as cryotherapy (freezing), surgical removal, or laser treatment. It's important to note that while these treatments can remove the wart, they do not cure the underlying HPV infection, so warts can recur.
10. Skin Cancer
Skin cancer is a significant health concern in the UK, with two main types: melanoma and non-melanoma skin cancer. According to Cancer Research UK, there are around 16,700 new melanoma skin cancer cases every year, making it the 5th most common cancer in the country. Non-melanoma skin cancer is even more prevalent, with approximately 147,000 new cases diagnosed each year.
The primary cause of skin cancer is overexposure to ultraviolet (UV) radiation from the sun or sunbeds, which is responsible for almost 9 out of 10 cases in the UK. Treatment for skin cancer in the UK depends on the type and stage of the disease. Surgery to remove the cancerous cells is often the first line of treatment.
For more advanced or aggressive cancers, treatments may include chemotherapy, radiotherapy, or targeted drug therapies. Immunotherapy, which uses the body's immune system to fight cancer, may also be an option. Preventive measures, such as regular use of sunscreen, wearing protective clothing when in the sun, and avoiding tanning beds, are crucial in managing skin cancer risk.