Dermal fillers are brilliant for wrinkles and lines caused by getting older or caused by genetic and lifestyle factors (perhaps you spent too long in the sun as a child?). As many of us know, as we get older, the amount of Hyaluronic Acid (also known as HA) that's found naturally in the skin is dramatically affected. This results in our skin losing lots of elasticity and skin moisture.
Luckily, we're reviewing Secret Rose dermal fillers today, with are filled with Hyaluronic Acid that can help reduce the effects of ageing.
What are fillers?
Fillers are a type of liquid or gel injected into your skin to restore its youthful appearance and reverse the ageing process; they can also be used to improve the appearance of your lips and cupid bow.
While fillers can't give you the secret to eternal youth, they help many people with their body confidence and provide them with the boost they need to be positive. The most common areas treated by dermal fillers tend to be the nasolabial folds (the folds between your mouth and nose) and the ageing lines that extend from your lips. A dermal filler is injected into the cutaneous layer of the skin, reducing these lines or shaping your lips more.
Why choose Secret Rose fillers?
Secret Rose fillers are the latest award-winning fillers to hit the industry; they are filled with Hyaluronic Acid and are being raved about by all who use them.
The four types of Secret Rose fillers are Secret Rose Fine, Implant, Deep and Shape. These range from their Fine option, which has a viscosity of just 100-200, to the Shape filler, which has a thick consistency of 300-500.
Secret Rose Dermal Fillers were recently voted 2022's Most Outstanding Dermal Filler Brand at the GHP Excellence Awards, and it's no wonder.
They are brilliant for contouring lips, tear troughs, rhinoplasty, fine lines, and wrinkles. Each filler has lidocaine in it, along with a CE mark, which proves the high standard of product and conforms to the UK hand standards of aesthetic treatments.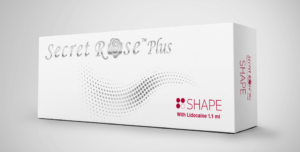 Why are Secret Rose fillers the best on the market?
We love Secret Rose dermal fillers because they can't just be found anywhere. Each filler is unique and exclusive to Secret Rose Distribution, a dedicated wholesale and direct aesthetic supplier of Aesthetic practitioners.
Secret Rose was founded by one of the most famous faces in the UK aesthetics world, Maxine McCarthy. They're dedicated to helping aesthetic practitioners deliver the finest quality dermal filler treatment to their clients. They were also awarded GHP Magazine's Most Outstanding Dermal Filling Brand in the UK in 2021, giving you even more assurance that they're the best.
A leading South Korean manufacturer has carefully developed these dermal fillers, Medi N Research Co. Ltd. They've been formulated and tested under extreme quality control procedures, which match international standards and ensure the safety of every client who uses them. They are compiled using a formula of sterile, pyrogen-free, physiological gel of cross-linked hyaluronic acid of non-animal origin. They also have the added benefits of a 0.3% lidocaine hydrochloride content, which helps to numb the area where the fillers have been injected. Reviews have been off the charts, stating that the fillers have improved the clients' visco-elasticity and resulted in a natural-looking volume.
Founder, Maxine McCarthy, qualified in aesthetics in 2009 and spent three years perfecting her treatments. As she takes such pride in her fillers, the Secret Rose development team has invested countless days attempting to achieve the perfect dermal fillers… and if reviews are believed, they've succeeded. Secret Rose fillers are long-lasting and proven to hold their shape for up to 12 months because they are highly cross-linked, with a high molecular weight, which slows down your body's degradation of the filler when injected.
All this being said, using the products will give you the same answer: Secret Rose Fillers are easily the best in the UK and international markets.