Fortunately, the answer is yes. Here are 4 amazing non-surgical treatments that can help define your jaw and get rid of those stubborn double chin fat cells.
HIFU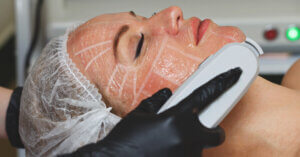 HIFU can work wonders for the double chin area and neck, lifting the whole region for a rejuvenated appearance. Working with the face and neck helps to improve the skin's overall elasticity and shape also. HIFU stands for High Intensity Focused Ultrasound and is a non-invasive means of saying goodbye to unwanted excess skin and improve its elasticity.
HIFU targets the tissue usually targeted during surgery, but doesn't damage the skin's surface – it's extremely focused as the name suggests. The effects generally last for around 9 months afterwards, though this depends on lifestyle, age, genetics and health.
Noteworthy
No downtime
Painless treatment
CoolSculpting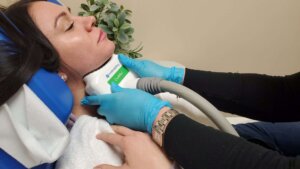 CoolSculpting is a safe fat reduction treatment that improves the appearance of a double chin in as little as 1 or 2 visits. Treatment works by freezing the fat cells in a specific area (the chin for example) blocking blood and oxygen from reaching cells and killing them off.
Once the cells are dead, the body processes them and disposes of them via the lymphatic system. As CoolSculpting doesn't prevent the creation of new fat cells, you'll need to commit to a healthy diet and regular exercise if you wish for the effects of treatment to last.
Noteworthy
Most effective for individuals within 15-20% of their goal weight.
Non-invasive treatment.
Aqualyx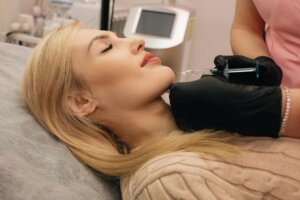 Dissolve fat cells in the double region with Aqualyx, an injectable treatment. Biocompatible and biodegradable, Aqualyx has minimal side effects (some minor swelling and bruising in the days after the injections are administered).
Treatment is most suited to those looking to contour and shape areas like the chin, rather than to lose weight in this area, so if you're outside a healthy BMI you should endeavour to reach this before having treatment.
Noteworthy
Minimal recovery time – you won't be able to do any intense physical exercise for 4-5 days.
Treatment will start to work immediately – you will see results from the very beginning.
Radiofrequency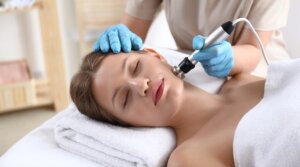 On paper, radiofrequency may sound a bit daunting. An electrical current is sent to specific fat cells and the radiofrequency heats the area and penetrates deep layer of the skin. However, it's perfectly safe and heats the cells within a safe range.
One of the speedier procedures on our list (treatment takes only 30 minutes), radiofrequency is ideal for busy people, though the number of sessions required will depend on the results you're after.
Noteworthy

Affordable treatment.
Firms the skin as treatment boosts collagen production.