Whilst the concept of freezing fat deposits across the body may sound absurd, it's actually clinically proven to be highly effective. Part of its appeal is that your body's own biological processes are responsible for excreting the fat once the cooling technology has worked its magic.
Fat freezing is an appealing route to a trimmer you in a society where finding the time and energy to lose that bit of extra weight can feel impossible. Here's a little bit more about the how and the why.
Did you say 'fat freezing'? How does cryolipolysis work?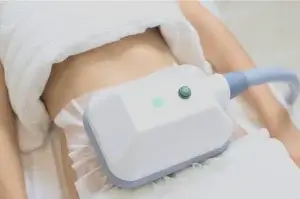 Nope, you didn't misread. Freezing fat cells is a mode of fat reduction.
Using a machine, the process targets fat cells at specific sites across the face and body and kills them. These dying cells then get processed by the body and are excreted through your liver, which is responsible for eliminating toxins and unwanted entities in the body.
Fat cells are more sensitive to temperature than any other cell type in the body, so the surrounding skin stays undamaged. This is incidentally one of the reasons it's become more favourable than liposuction in recent years (which does damage the surrounding skin).
Which parts of the body can be treated with cryolipolysis?
Some examples of treatment include:
Double chin fat freezing
Thighs and arm fat freezing
Back fat freezing
Abdomen fat freezing
Arm fat freezing
Some technologies, including the world-famous Cooltech IceSculpt, include several applicators in their design, meaning they can focus on virtually any body part.
So why Cryolipolysis?
As we've already highlighted, cryolipolysis is a less invasive mode of fat-freezing treatment than liposuction. These days, we're all looking for treatments that demand low (or no) recovery time. You'll be able to get back to your routine the same day or the day after your treatment.
It's also super quick to have done, taking only 60 minutes for a single localised area.
Are you looking for a double chin treatment to eliminate that tiny bit of fat that won't budge through diet and exercise? Or maybe you'd like to slim down your waist area to get into that new dress you've just purchased? Fat freezing is safe, non-surgical treatment that reduces up to 25% of subcutaneous fats after just a single session.
Depending on your desired needs and expectations, your clinician recommends multiple treatment sessions a few weeks apart. However, you will undoubtedly notice a difference after one session.
Remember, though: as with all medical aesthetics treatments, it's essential to spend time researching before impulsively heading into a clinic. Look for reviews, side effects, the type of language they use on their website, and the background of the clinicians who work there, and check out the clinic in person beforehand if you can.
Can you do Cryolipolysis at Home?
Given that a machine is involved, the short answer is no. Your best option is to find a skin clinic near you that offers this treatment and is respected for providing results. Always read the reviews before committing.
The big question… Is it permanent?
Last but certainly not least, our readers will want to know if treatment promises to keep the fat cells at bay. Once the targeted cooling energy freezes the fat cells, it's a one-way ticket – they're not returning. However, the process won't keep fat cells from returning, so a sensible diet and exercise routine is vital after treatment if you're looking for long-term results.
Need any advice on treatment or how to practice healthy habits to stay slim? Pop us a comment below, and we'll get back to you soon!