For those intrigued by this embrace of natural beauty, dive into Aesthetics Today for a vibrant journey through the latest in beauty and aesthetic practices! In a world where natural beauty is making waves, so evident at this Paris Fashion Week, this platform offers a goldmine of innovative and bespoke solutions, perfectly aligning with the emerging, unadorned aesthetic on the global stage.
The Radiance of Natural Beauty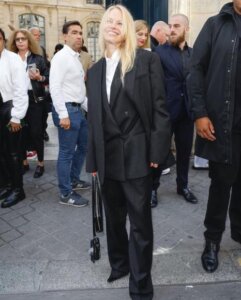 Amidst the glitter and glam synonymous with PFW, Pamela Anderson made a strikingly fresh-faced appearance at the much-anticipated Le Jardin Chic's 2023 spring/summer show, quietly making a bold statement. Dressed in an ethereal, flowing gown from the collection, her minimally made-up visage took a gentle stand, possibly heralding the renaissance of natural beauty in an environment of extravagance.
Anderson, usually lauded for her glamorous looks, effortlessly embodied the essence of subtle beauty, her skin lightly kissed with makeup that accentuated her natural glow without masking it.
The look attracted plenty of attention, with fellow celebs and fashion magazines taking note. Jamie Lee-Curtis captured the moment quite clearly on Instagram:
Anderson's bold move, her name being synonymous with glam, might just be an indication of what's to come: more models and celebrities embracing their natural beauty, even on the world's most-watched runways.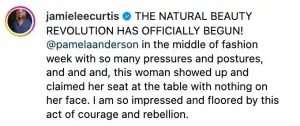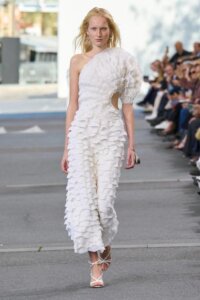 Another recent move that shook the beauty world was during the 2022 Miss England competition, where Melissa Raouf completely stole the spotlight by going make-up-free in a beauty contest!
This shows that it's not just a one-off sensation in Paris this year, but rather that these moves have begun throughout the beauty world, showcasing a radical trend that might once have seemed unthinkable: natural faces, almost devoid of makeup, flaunting their inherent beauty better than the rest.
Designers Embrace Natural Beauty with a Sustainable Twist
The captivating backdrop of the iconic city of Paris, historically a vessel for propelling fashion trends into the global spotlight, bore witness to a few poignant trends this season. Many shows put forward their models to audaciously flaunt gorgeous attire with minimal makeup, gracefully showcasing an aesthetic that celebrated inherent beauty amidst the extravagance of the designs they wore.
The exquisite fashion brand Chloé did this to great effect, combining contemporary fashion looks with a subtle skin aesthetic.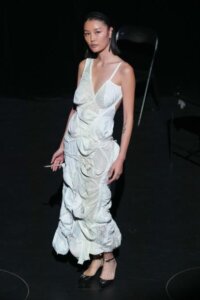 In a striking alignment with the broader movements within the fashion world, resourceful fabrics also made a noticeable impact during the week. Designers, perhaps amidst the economic strains of recessions, inflation, and the cost of living crisis, innovatively explored the realms of reduction, reuse, and recycling, curating novel creations without contributing to waste.
Notable instances were Germanier's upcycled bead co-ord and T LABEL's white glove dress caught attention, while Ellen Hodakova Larsson of HODAKOVA showcased a line of dresses ingeniously crafted from old bras, tops from vintage belts, and mini skirts from repurposed military shirts.
The concept of anything becoming an accessory also manifested vividly on the Paris runways.
Exhibiting a blend of whimsy and inventive sustainability, Balenciaga presented fake babies in bags, Loewe unveiled deflated balloon pumps, and Botter introduced condom gloves, bringing forth an articulate statement about resourcefulness and creativity in accessory design.

Hermès – Streetstyle – Paris Fashion Week SS24 📸 1/2

#PFW #Hermes #SS24 pic.twitter.com/VjeGnIlUla

— Regz (@regzphotos) October 4, 2023
Maximalism Makes Its Mark Too
There was still plenty to serve as a contrast to the minimalistic approach of some designers though. The spectacularly baroque-inspired collection from Francesco Risso of Marni delivered an explosive celebration of Maximalism, with models adorned in vibrant, intricate, and boldly detailed outfits.
The makeup too, was a dramatic affair, showcasing bold eyeshadows, rich lip colours, and an all-around embrace of a striking aesthetic.
Here, the runway told a story of rebellion against the minimalist trends, offering an unabashed homage to extravagance and a tangible delight in rich, hand-crafted artistry.
Is The No-Makeup Movement Taking a Firm Hold at PFW?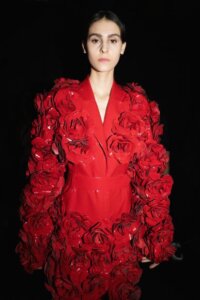 Paris Fashion Week has always been a source of trends soon to cascade through the international fashion community. With notable figures and models opting for a minimalist aesthetic, the 'No-Makeup' Movement seems to be quietly solidifying its place in high fashion.
Brands such as Chloé and famous faces like Pamela Anderson have begun the push towards it, and for now, it's a start.
However, 2023's Spring/Summer events have splendidly highlighted that there is room for both the ornate and the simple. Designers like Olivier Rousteing of Balmain have merged the two, with models sporting lavishly detailed attire paired with subdued makeup, illustrating that individual identity can be expressed through a multitude of channels.
Spotlighting Subtle Aesthetic Procedures
The developing portrait of natural beauty, rich in its detail, should still be the guiding light for anyone seeking to enhance their natural beauty. An amazing way to do this is with minor aesthetic procedures. With so many treatments available, here's a list of some of the best options for you:
BB Glow: Beyond a typical facial, the BB Glow procedure integrates Microneedling with semi-permanent tinted serums, resulting in a radiant skin foundation lasting for months. As an alternative to daily makeup, it delivers a consistent, light-reflecting complexion, enhancing the skin's natural luminance and reducing imperfections.
Lip Love: One thing that has always remained true is this: less is more. Lip enhancements today use hyaluronic acid-based fillers, which provide a softer, more hydrated appearance. These treatments add subtle volume, sculpting the lips while ensuring they look and feel natural. The results complement the individual's facial structure, offering a balanced and refined look without the overdone appearance.
Microblading Mastery: Eyebrows frame our faces and communicate emotions, making their design vital. Microblading offers a bespoke approach, using fine strokes to mimic natural brow hairs. The result is fuller, more defined brows complementing one's facial symmetry. And with semi-permanent results, it's a preferred choice for many seeking consistency in their brow game.
Botox, The Gentle Way: Gone are the days when Botox meant an emotionless face. Today's aestheticians use a more conservative approach, administering smaller doses to targeted areas. This method diminishes the appearance of lines and wrinkles, preserving the face's dynamic expressions. It's a revitalisation, ensuring age is just a number!
Smiling Bright: Our teeth play a critical role in our aesthetic appeal. Subtle dental enhancements can make a significant difference, from teeth whitening procedures that brighten several shades to bonding techniques that correct minor imperfections. Such treatments focus on improving the natural beauty of one's smile, ensuring it's as captivating as ever.
The Blend of Spectacle and Subtlety
The tapestry of PFW 2023 has been intricately woven with threads of both maximalist and minimalist narratives. The explicit presence of natural beauty, accentuated by minimal aesthetic interventions, has opened a dialogue that will transcend mere fashion.
This interplay of ornate and simple, bold and understated, might just be signalling an era where personal choices, authenticity, and the celebration of individuality take centre stage in the fashion world. It's a testament to the multifaceted nature of beauty, demonstrating that there is a space where different expressions of aesthetic and self can coalesce and be celebrated in unity on a global stage.