Celebrity culture, shifting gender ideals and an overall confidence in alternative fashion is spurring a brand new male beauty sector into reality. But, why is the male cohort so interested in nails now and what does this mean for the industry?
Calvin Klein's Celebrity Streams   
In a recent Instagram Live celebrity takeover for Calvin Klein, Machine Gun Kelly and stand-up comedian Pete Davidson were seen attending a nail salon together. The live featured two guys chatting about 'guy stuff' whilst getting their nails done. It turns out both Davidson and Machine Gun Kelly are both big fans of the manicure and this gig may have inadvertently pushed Machine Gun Kelly into the game. 
Machine Gun Kelly's Un/Dn Laqr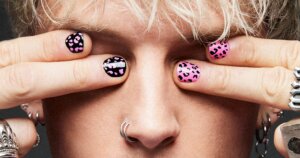 A few weeks ago, Machine Gun Kelly, also known as Colson Baker, released his own line of nail polish called Un/Dn Laqr. Kelly launched his line with 10 lacquers and chose incendiary yet genderless names such as 'Mary Jane' and 'Slippery When Wet'.
Kelly came to be interested in the nail care industry following a collaboration with celebrity manicurist Brittney Boyce. The two artists work together to form new styles and nail looks before Kelly decides if he wants to add another product to his already highly-successful line. 
Lil' Yachty's Crete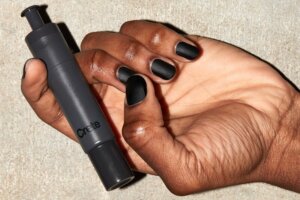 Lil' Yachty also released a line of polishes called Crete. The brand is described as a space for redefining gender norms and breaking free from societal boundaries. Crete wants to empower all gender identities to take charge of their self-expression. Again, this brand is aimed and targeted at male customers that feel restricted by what they are told they can wear and want to try something new.
Lil Yachty said that he started Crete after he got his nails professionally buffed for the first time. Yachty said that he got compliments instantly, felt cleaner and felt more mature. He wanted to project that vibe to his followers, regardless of gender. 
Harry Styles' Pleasing Line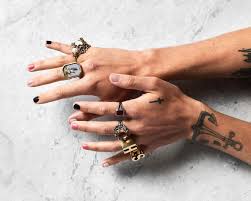 In November last year, Harry Styles announced and launched Pleasing, his own beauty line. For a man that is rarely seen without his manicured fingertips, Styles launched the six-product line with four unique nail polishes.
Styles explains that the line only exists because he would see colour or flower or wallpaper and want to put it on his nails. Styles, perhaps, embodies the metrosexual community better than most male celebrities and is a clear example of the type of cis heterosexual men now interested in nail care. 
The influence of the celebrity manicurist 
And, Machine Gun Kelly isn't the only male celebrity to be going full hog into the nail care business. In fact, Boyce has worked with the likes of Travis Barker, Landon Barker, DJ Kayzo and TikToker Jaden Hossler on their own nail care lines as well. Boyce said: "There is definitely a noticeable uptick in male celebrities getting professional manicures with nail colours and even nail art." Boyce thinks men have been flirting with nail care for a while but now due to a shift in gender stereotypes, the adoption is becoming mainstream. "Men have been doing their nails for a long time, bit for photoshoots and whatnot, a lot of men wanted just bare, groomed hands. Now, more men are open to expressing their creativity on their nails, adding cool designs or fun colours, and having fun with it. 
Another celebrity manicurist to influence the culture, much like Boyce, is Julie Kandalec. Kandalec has been working with the likes of Maluma and Joe Jonas on their looks and manicures and they've taken them to the red carpets for show. Kandalec has also seen an uptick on males getting flashier nail designs, stating that she has seen significant adoption across "fall and winter." 
Los Angeles nail artist Tuguldur Erdenejargal says that heterosexual men are adopting nail care like crazy. Erdenejargal said: "For cis straight men, it is increasing a lot. It is becoming more normalised – people want to get manicures." Erdenejargal points to the popularity and influence of cis stars like Harry Styles, A$AP Rocky, Joe Jonas and Jason Momoa for ushering in this new era of men being comfortable enough to rock the nail art. 
Male Nail Care in history
Male celebrity-owned nail polish brands are in their infancy but men have been painting their nails since 3000 BC. Notwithstanding more historical examples, we can also look to icons like David Bowie, Dennis Rodman and Johnny Depp as stars who have been rocking the nail polish for some time. 
Of course, there has been pushback from right-wing and deeply conservative communities who see this as yet another breaking down of gender norms and traditions. However, despite their best efforts, male nail care survived and thrived. In fact, it's been here all along, we've just rediscovered it. 
Why are men embracing nail care now?
So, why? Why did it take until 2021/2022 for mainstream males to embrace wearing nail polish? 
One of the reasons is TikTok, Gen Z and their love of beauty. There is a thinking that younger generations, specifically Gen Z, have now adopted a 'who cares? attitude' following a cp]couple of years of lockdowns, protests and pandemics. After being locked up and robbed of socialising for years, they just want to get out there and express themselves. If that means a guy slapping on some nail polish, then so be it!
Another reason is that it is a natural next stage and step for the way fashion has been moving in general. The red carpets over the last few years has been all about breaking gender roles and forming new ones. Harry Styles, Lil Nas X and Billy Porter arriving to events in gowns and heels means everything is on the table and nothing is restricted. 
How is this affecting the industry?
The short answer? Very positively! Klarna revealed data that shows that the number of manicure kits that have been added to both male and female wish lists on the app has increased by 251%. Of all the manicure kits and wish lists, 10% belong to male customers. It is still an emerging market with the aforementioned stars blazing the trail but it is well and truly finding a place in the industry.