Dive into the world of exquisite skincare treatments, and you'll inevitably discover HydraFacial, a superstar treatment that has been making waves in the beauty industry. Beloved by skincare enthusiasts and celebrities alike, this luxurious, non-invasive cosmetic procedure has earned its reputation for enhancing skin's appearance and overall health. Imagine treating your skin to a lavish spa experience that leaves you with a radiant and healthy glow. That's exactly the indulgence a HydraFacial offers!
Behind the Technology: Exploring HydraFacial's Innovative Approach
HydraFacial stands tall among other treatments due to its unique multi-step process and innovative technology. An experienced esthetician or dermatologist uses a special handheld device that delivers a series of unique serums and gentle suction to your skin, promising a thorough pampering from start to finish.
First, your journey begins with an intense cleanse, bidding farewell to makeup, dirt, and pesky oil that may have taken up residence on your skin. An exfoliating solution is then delicately applied, removing unwanted dead skin cells and revealing your smoother, more vibrant complexion underneath.
But the magic doesn't stop there! The HydraFacial device employs hydra dermabrasion, combining the benefits of traditional microdermabrasion, chemical peels, and automated painless extractions. The device's incredible vacuum-like suction power effectively extracts impurities like blackheads and whiteheads nestled into your pores. They don't stand a chance against this gentle yet effective treatment.
The finale is the ultimate hydration experience. Your skin is treated with a delectable combination of serums packed with antioxidants, peptides, and hyaluronic acid. These divine ingredients work their magic, nourishing and hydrating your skin from within, leaving you with a refreshed and revitalized complexion that will truly make you feel like a million bucks.
Tackling Skincare Challenges: From Fine Lines to Acne
The beauty of HydraFacial lies in its adaptability. Whether you're grappling with fine lines and wrinkles, struggling with uneven skin tone, hyperpigmentation, or stubbornly clogged pores, this treatment has your back. It can be customized to your specific skin concerns. As a result, the HydraFacial is suitable for most skin types and can be performed on various areas, including the face, neck, chest, and hands.
Say farewell to dry and underwhelming skin. This fantastic treatment can help even out your skin tone, reduce the appearance of fine lines and wrinkles, and even shrink those pesky pores. It's almost like a dream come true!
But wait, there's more! HydraFacial's benefits are certainly remarkable. Not only will you notice an improvement in your skin's texture, but you'll also feel a surge in hydration, bidding farewell to dry and lacklustre skin. This fantastic treatment can even out skin tone, reduce the appearance of fine lines, and minimize pore size. It is really something.
HydraFacial offers similar results but with the added advantage of being gentle and relaxing compared to other common skincare treatments like microdermabrasion or chemical peels. The procedure is virtually painless with no downtime, allowing you to sit back, relax, and let your skin receive the royal treatment it deserves.
Is It For You? A Look at Suitable Skin Types & Conditions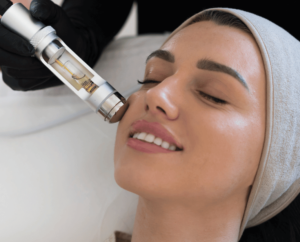 While HydraFacial is generally a safe treatment, as with any skincare procedure, it's essential to be aware of potential risks and side effects. Most people experience slight redness immediately after the treatment, but this usually subsides within a few hours.
People with active rashes, sunburns, or rosacea should avoid HydraFacial, as it can potentially exacerbate these conditions. Pregnant women should also consult with a dermatologist before undertaking the treatment due to the use of salicylic acid in some of the serums.
While the HydraFacial provides immediate improvements, achieving longer-lasting results may require multiple sessions. To ensure the best outcome for your unique skin concerns and goals, it's always wise to consult with a qualified professional. They will guide you on your skincare journey and help determine if HydraFacial fits you.
Recap: Embracing HydraFacial in Your Skincare Routine
The HydraFacial is more than just a buzzword in the skincare industry. It is a treatment that, importantly, delivers on its promises. Offering a combination of deep cleansing, exfoliation, extraction, and hydration, it provides a comprehensive approach to skin health. With its ability to tackle various skin issues and cater to most skin types, it's an excellent option for those who want to give their skin the love and attention it deserves.
The takeaway here is clear: whether you're dealing with specific skin issues or want to pamper yourself, a HydraFacial experience could be your golden ticket to healthier, more radiant skin. As always, consult with a professional before beginning any new skincare regimen, but don't be surprised if you soon find yourself saying goodbye to dullness and hello to a rejuvenated complexion.