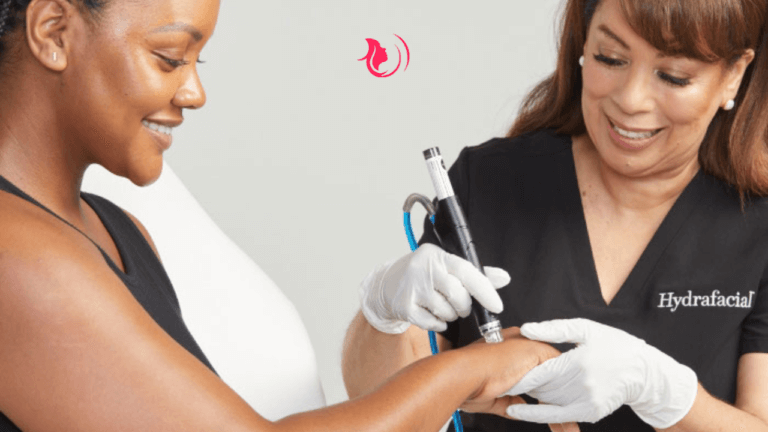 The HydraFacial is a non-invasive, non-surgical treatment that uses patented technology to cleanse, extract, and hydrate the skin.
It combines a microdermabrasion-like treatment with an infusion of serums to provide instant results with no discomfort or downtime. The procedure typically takes 30 minutes and can be done in three easy steps: cleansing, extracting, and hydrating.
Benefits of the HydraFacial Treatment
The HydraFacial treatment has become one of the most popular beauty treatments due to its wide range of benefits. It helps to reduce wrinkles and fine lines, improve skin tone and texture, clear out pores, reduce dark spots and hyperpigmentation, as well as provide deep hydration for long-lasting results. Additionally, it can help to reduce acne breakouts by removing impurities from pores while also providing nourishment to the skin.
The HydraFacial is suitable for all skin types and ages since it is gentle enough for sensitive skin yet powerful enough to tackle more stubborn issues such as acne scars or sun damage. Furthermore, it has been proven effective in clinical studies with participants reporting visible improvements in their skin after just one session.
Who Should Consider Getting a HydraFacial?
The HydraFacial treatment is ideal for anyone looking for an effective way to improve their complexion without any downtime or discomfort. It is especially beneficial for those who are looking for a quick fix before a special event or want to maintain healthy skin on an ongoing basis.
In terms of price point, the cost of the treatment varies depending on where you go but generally ranges from $150-$300 per session. This makes it accessible to most demographics who are interested in investing in their skincare routine without breaking the bank.
Beauty Industry Trends & How they Affect Hydrafacial's Popularity
The beauty industry has seen a shift towards more natural ingredients and treatments over recent years which has made treatments like HydraFacial increasingly popular due to its gentle yet effective approach. Additionally, there has been an increase in demand for treatments that offer immediate results which makes this procedure even more attractive since it provides visible improvements after just one session with no downtime required afterwards.
Finally, social media has played an important role in increasing awareness about different beauty treatments including the HydraFacial which has helped boost its popularity even further by showcasing real-life results from satisfied customers online.