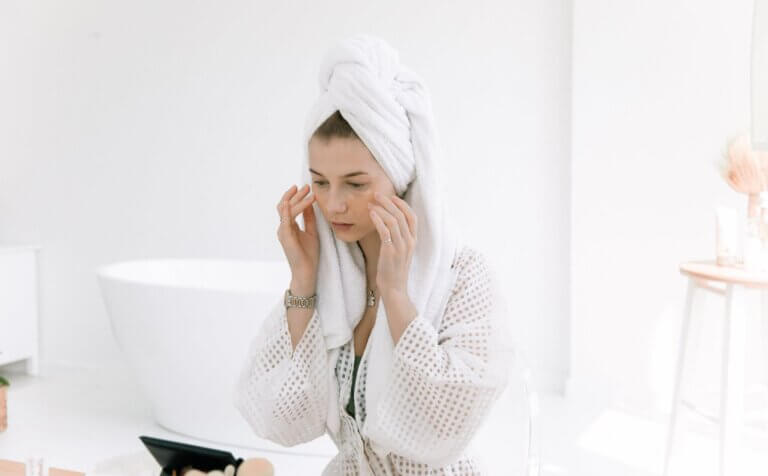 Your skin is the most important thing you'll ever wear and looking after it in the long-term has advantages for your health and happiness. What if it was possible to take advantage of a service that allowed you to simply fill out some questions online and speak to a medical professional, with a special interest in skin health and aesthetics? Thanks to Skinora, this is possible.
Who is Skinora?
Skinora describe themselves as an 'online service that provides personalised skincare programmes and recommendations of scientifically-backed skincare products to customers.
With the restrictions imposed due to Covid-19, an online skincare service has never been more practical and necessary than now.
Skinora eliminates the barrier to entry that might otherwise prevent certain individuals from seeking the treatment they need to rejuvenate their skin and in turn, feel confident and radiant from the outside in, and vice versa.
How does the process work?
The process is made up of 4 simple steps:
Prospective clients will take a 3-minute quiz, compiled by one of the Skinora doctors. A £10 skin analysis fee is taken.
Receive your very own customised skin programmer: Skinora's skin experts will identify the best products for you, according to your profile.
Choose your products: clients pay only for the products they want to keep and can at this point, redeem the £10 skin analysis fee against anything purchased.
It could be easy to assume that online service might not be a personable service. However, when Skinora say their approach to skincare is bespoke, they mean just that.
One of their skilled expert doctors will contact you over the phone to listen to your specific concerns, based on your answers to the quiz. You'll have the chance to explain your expectations of treatment and hear about how these will be addressed.
Highly experienced & friendly team
The Skinora doctors are Dr Anna Puri and Dr Lucinda Appiah, who are both practicing GPs with a specific interest in skincare and dermatology. Both graduates of the University of St Andrews and Imperial College London, their experience is extensive, so patients can know they are in the safest of hands.
The clinic's philosophy is: "Our expertise + your input + premium quality products = a personalised programme that delivers real results'. Their reviews speak for themselves, with happy, satisfied clients expressing their satisfaction on the Skinora Facebook page.
Expect the only market-leading brands with Skinora
Skinora only selects reputable brands to recommend to their clients, including names such as Obagi and ZO. One of the most important things remembers when considering skincare, is that no two individuals' skin is the same.
This sits at the heart of what Skinora is all about and here at Aesthetics Today, we agree that something as important as your skin health and aesthetic should always be addressed in a bespoke manner.
Remember to steer clear of any establishment that wants to adopt a 'one size fits all' approach!