Man Cave: Original Moisturiser
Because dads need to moisturise too! Treat your dad to Man Cave's smartly-branded moisturiser, designed to hydrate, mattify and smoothen skin. Both shea butter and borage oil are known to be effective against dry skin, so you can be safe in the knowledge that your gift is keeping your dad's skin healthy and looking super.
Man Cave is also running several offers at the moment so it's worth having a browse as soon as possible!
Mariner Jack: Beard Wax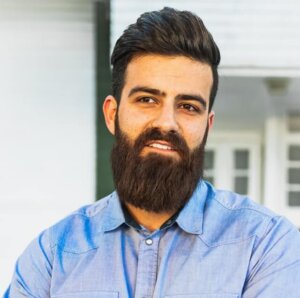 A great-looking beard has never been more fashionable than today. If your dad is a fan of facial hair, look no further than Mariner Jack for epic beard grooming paraphernalia. Their beard waxes are scented and include spearmint, sweet orange, lime and sandalwood, bergamot and cinnamon leaf and sweet orange.
Once again, the branding and logo make this stand out as a gift, unlike your run of the mill beard care products that you might expect to find in the supermarket or chemist.
Skin Care: Gardener's Solid Hand Cream Bar
If your dad loves his gardening, his hands are going to be feeling the wear and tear, especially at the moment – it's fair to say we're all spending more time in our gardens during lockdown!
Edinburgh Natural Skin Care's Gardener's Solid Hand Cream Bar gives a little TLC to working hands, stopping them from becoming dry, rough and cracked – it's also scented with beneficial oils.
All of Edinburgh Natural Skin Care's products are handmade in Scotland and don't contain any artificial colouring, preservatives or fragrance oils. The wasp design on the bar itself is a neat aesthetic addition.
Aesthetics Gift Voucher
This may seem a little unconventional, but with aesthetics clinics having been closed for 3 months due to Covid-19, a gift voucher for treatments such as Botox, dermal fillers and laser hair removal, may be a good way to treat your dad this Father's Day.
Such treatments are a gift that keeps on giving, with the effects lasting for months afterwards. Read our blog for more information on such treatments and their benefits.
Make sure you do your research to find a reputable medical aesthetics clinic.
Have a great Father's Day!