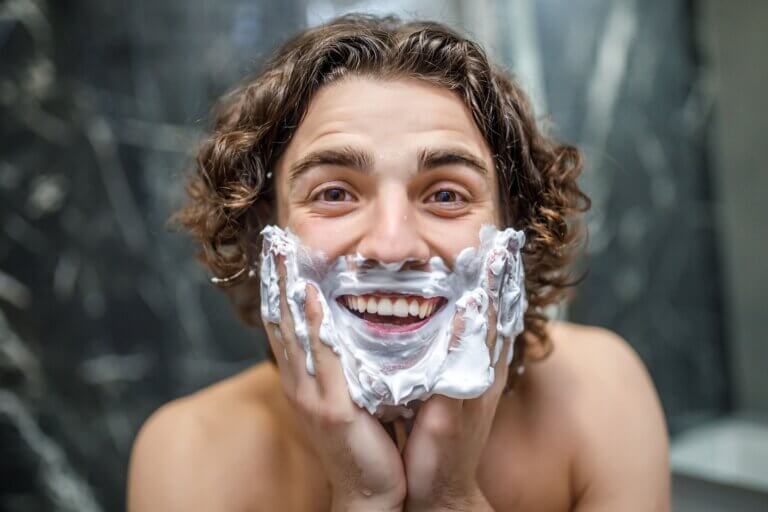 One of the biggest developments in the beauty and cosmetic sector is the proliferation of sustainable beauty products in the industry. Women's brands may be leading the way in the race for sustainable beauty, but men's grooming products are catching up.
Every gender can benefit from a great skincare routine, so guys, we aren't any different. Today, we will be looking at a number of sustainable men's grooming brands and products and how they are innovating their way to popularity. 
1: Wild Sage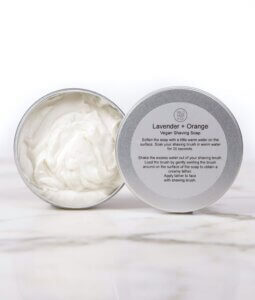 Wild Sage is a family-run men's grooming company. They produces 100% natural vegan products that are also preservative-free. Wild Sage's soaps combine minerals, clays, oils and plants for an organic final product. Their products are made predominantly of coconut oil and shea butter to moisturise. Their shaving soap uses lemongrass and tea tree essentials making the product antibacterial. 
2: Neal's Yard Remedies

Neal's Yard has been carbon neutral for over 10 years. The brand aims for a 47% reduction in excess by 2025 and a massive reduction of 87% in excess by 2050. Neal's Yard also uses 100% renewable energy, never tests on animals, supports global communities, actively protects the oceans and actively reduces output to landfills.
3: Skin + Tonic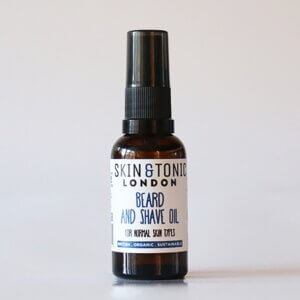 Skin + Tonic supports local farmers and growers in the UK, France, Sri Lanka and Ghana. Every item is packaged in recycled glass and sealed with plant cellulose that is compostable. Their beard shave oil is also made from organic plant oils, making the product 100% natural and 99% organic and vegan. Skin + Tonic are sustainable both in product make up and ingredient production.
4: Badger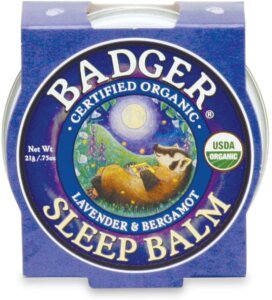 Badger is a family-owned body care company that uses plant extracts, beeswax oils and minerals that require minimal processing and operates on a sustainable supply chain. Their products are chemical free and contain non-photosensitising essential oils. 
Badger started in the mid 90s, when founder Bill Whyte, a carpenter at the time, mixed up some beeswax and olive oil to create a simple herbal balm in order to treat his often split and cracked skin. The solution soothed his ailment and his first item was born.
5: Green People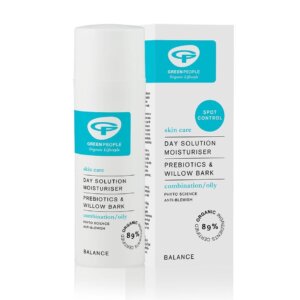 They have a great lineup of 10 organic products made from fair trade organic formulations. Perfect for sensitive skin, Green People's men's line products treat acne, eczema and psoriasis. 
Green People also offers a complete range of certified organic products for the whole family as well. Their products are packed with 99% active natural and organic ingredients. 
Green People has also been awarded over 140 times from organisations such as Natural Health Magazine, Ultimate Natural Beauty Bible, The Green Parent and the midwife-approved TIPS awards.
6: Bulldog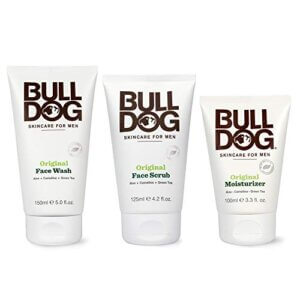 Bulldog was one of the first grooming brands to be certified cruelty-free by Cruelty Free International. Their products are completely vegan, good on the skin and certified as carbon neutral by CarbonNeutral.com.  
Bulldog is also a member of the First Mile Recycling Scheme. With this scheme, customers can post used tubes and packaging back to Bulldog to be turned back into new plastic tubes or packaging. 
Bulldog has also partnered with Loop and Tesco to generate refill stations around the country. With this scheme, you can take your Bulldog moisturiser to refill stations at Tesco stories to be professionally cleaned and refilled again and again. 
7: Rebels Refinery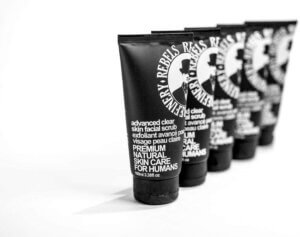 Rebels Refinery raises money for the Prostate Cancer Foundation with every sale. Every single item is also produced cruelty-free. Furthermore, most of their lip balms for men are 100% natural as well. 
One of Rebels Refinery's biggest mission statements is that none of their products includes any harmful sulphates. Other soaps and cosmetic products contain sulphates that can cause redness or irritation, you won't have this issue with Rebels Refinery. 
Conclusion: Men's Grooming
The men's personal care market has increased 7 percent over the last year to hit a whopping $122 billion, which amounts to a quarter of the total industry's revenue. The men's market is expected to increase even further and hit $166 billion by 2022. The industry as a whole is focusing more on male consumers. 
At the same time, there has been a marked increase in interest and action when it comes to sustainable beauty. It's time for everyone, including men, to seek out and use skincare with cruelty-free production, environmentally-sourced ingredients and sustainable packaging. We hope our recommendations above have inspired you to look into sustainable beauty brands/products for men. Keep an eye on our blog for more beauty and cosmetic news.