This year, the event twirls in a fresh gust of glamour as it shares the stage with Salon International, a respected congregation of hair treatment maestros. As the autumn leaves flutter down, the curtains will rise, unveiling the absolute cream of beauty and nail brands, avant-garde treatments, enlightening educational events, and endless networking opportunities.
What's Happening at Olympia Beauty 2023?
The Competitions
The Olympia Beauty Show 2023 brings the heat with three exciting competitions at the forefront, giving attendees a chance to showcase their skills and compete with the best in the industry.
Firstly, the National Massage Championship (NMC) is back for its fifth year, inviting massage therapists and bodyworkers to compete across six categories. With a registration fee of £129 per category, participants will be demonstrating their divine massage techniques and competing for the top spot. There's a discount for those entering multiple categories, too, so the best can be seen more than once! For a full breakdown of the competition and the schedule, click here!
Next is the Nailympia, the go-to competition for the top nail artists looking to display their creativity. The competition has both online and on-site categories this year, covering various themes like 'Runway Nails – The Wizard of Oz' and 'Flat Art – Speakeasy – Prohibition' to the usual culprits like Gel Polish Manicure, L&P Sculpture and Salon Nails.
Finally, we have the Olympia Beauty Competition. In collaboration with The Smart Group, Olympia Beauty is offering a chance for participants at the event to win a SMARTDiode PRO worth £16,950! This prize is ideal for salons and clinics looking to offer more efficient and comfortable laser hair removal treatments. To enter, participants must register for Olympia Beauty, visit The Smart Group Stand 1016 on either 15 or 16 October, and enter the competition. Elevating your salon or clinic with top-tier laser hair removal technology is a golden chance.
The Live-Stage Shows to Get Excited For
This year's Olympia Beauty will have three live shows for participants to enjoy. Each will offer something worthwhile, so plan your day properly and don't miss a thing!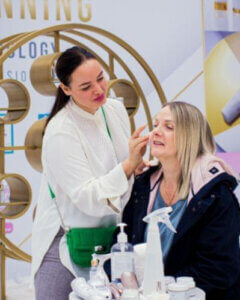 Brushing Up Skills with Nail and Brow Workshops
In an alliance with Scratch, Olympia Beauty orchestrates a melody of live sessions with the maestros of the industry. Here's where the rhythmic tap of bristles and the poetic glide of nail art tools create a ballet of learning and upskilling. Whether you are a nail savant, a brow architect, or a student with dreams woven with hues and shades, these workshops are the looms to refine your artistry. Engage with the industry's true virtuosos, dive into the live demonstrations on show, and let the colours of unmatched expertise stain your professional fabric.
Advanced Insights at the Advanced Beauty Stage
The Advanced Beauty Stage is more than a platform; it's a crucible where innovative ideas will meld with experience under the vigilant eyes of industry veterans. They'll dissect the anatomy of success in live discussions, providing a roadmap filled with actionable strategies ready to be implanted into your salon's heart. The notes you pen down here could be the key to your salon's future success!
Wellbeing at the Core of the Health and Wellbeing Stage
There are going to be a ton of things to learn at the Health and Wellbeing stage. From navigating through the core of inner health and outer beauty with the compass of a Naturopathic Nutritional Therapist, Izzy Seadon's wisdom, where the realms of skincare transcend the superficial as you delve into holistic realms, this stage is sure to have something to suit your desires. Further shows, such as the art of on-site chair massage, will unfold before your eyes. At the same time, self-care mantras from World Massage Champion Slav Marinov will echo through the halls, nurturing the seeds of well-being in the fertile grounds of professional challenges.
The Beauty Industry's Best and Brightest on Display

Get ready to be inspired as the accomplished personalities of the beauty industry share their journey and insights at Olympia Beauty 2023. Here's a closer look at some of the prominent figures set to share their knowledge at the event:
Andrew Hansford: With 15 years in aesthetics, Andrew is a leading trainer and specialist. He's known for his lectures on skin care and medical needling at major events. In 2018, he started the ACH Aesthetics Training Academy, providing advanced training to UK skin professionals.
Antonia Burrell: Antonia, CEO of Antonia Burrell Holistic Skincare, is a BABTAC-accredited expert and London College of Fashion lecturer. With 20 years in beauty, she's a natural beauty pioneer. Her ethical, 100% natural product line is known for its results and supports organic growers.
Cigdem Kemal Yilmaz: Cigdem, a renowned Chemical Engineer, founded CHIDEM Personalised Skincare and introduced the pioneering Skin Masterclass certification. With 10+ years' experience, she's collaborated with a major chemical company on product optimization.
Dr Sabika Karim: Founder of Skin Medical, Dr. Sabika is a top international educator. A King's College graduate, she's specialised in aesthetics because of its profound effect on boosting her patients' confidence and well-being.
Other notable confirmed speakers to look forward to include:
Kathryn Buckley
Kerry Belba
Kirsty Meakin
Maria Rylott-Byrd
Martyna Jurgielewicz
Sam Marshall
Slav Marino
Stephanie Hardis
Sura Alzubaidi
Amy Martin
Belinda Price
Claire Howard
Diane Hey
Jazz Sidhu
Beyond renowned speakers, the brand showcase at Olympia Beauty 2023 is set to be a hub of innovation and quality. This will be a fantastic opportunity to explore what's trending in the beauty industry, discover new tools and products, and possibly find the next big thing for your salon. Some of the biggest brands on display are:
3D Aesthetics: 3D Aesthetics offers non-surgical devices for body contouring, anti-ageing, hair reduction, tattoo removal, and more. Renowned in the UK as a surgery alternative, their treatments are praised by celebrities, the press, and top UK medical professionals.
OPATRA LONDON: Opatra London, established in 2010, is a British brand known for innovative skincare products and technology. They blend science with technology to offer solutions for all skin types, including devices and products used both professionally and at home. Their range includes anti-ageing devices, skincare items, and equipment for professionals.
The SMART Group: Since 2009, The SMART Group, an independent aesthetic device company, has been providing top-tier technology and support to the health and beauty sectors. They specialise in identifying effective and profitable products worldwide and offer a range of innovative items, backed by a management team with over 50 years of combined industry experience.
Glitterbels: Glitterbels is a global professional salon brand, known for its unique range of acrylics, gels, and modern accessories. Driven by colour innovation inspired by fashion and nature, they aim to boost positivity and confidence in appearance.
Each brand stand is a doorway to new possibilities and a chance to network with the trendsetters of the beauty industry. Make sure to explore the brand showcase and take a step closer to the cutting edge of beauty innovations. For a full list of the brands on show, check out the Olympia Beauty Website.
Other Fantastic Additions at Olympia Beauty 2023
Bridging The Learning: Colleges
This year, the corridors of Olympia Beauty will echo with the enthusiastic chatter of students and the seasoned discourse of lecturers. The event offers scholars of beauty the chance to take in all the live training sessions, employer meet-and-greets, and the panorama of the latest industry trends, just waiting to be explored. It's not just an event but a catalyst accelerating the momentum of aspiring beauty mavens towards a promising career horizon.
Exclusivity at Its Best
For those with a Salon and Spa Owners' Club Membership, you'll be stepping into an enclave of exclusivity amidst the bustling beauty cosmos. Benefits such as early show access, the clink of glasses at VIP drinks receptions, and the warm embrace of exclusive discounts on live stages await. It's a voyage not just through the aisles of exhibitors but through the realms of community and knowledge accumulation. To get your ticket to a true VIP experience, click here.
Get Ready for the Best Beauty Event of the Year!
Olympia Beauty 2023 is more than an event; it promises to be a journey into the heart of beauty and wellness, a narrative where every chapter unfolds a blend of knowledge, skill, competition, and camaraderie. It's an invitation to every beauty and nail professional, student, and lecturer to join a celebration honouring beauty's essence, the spirit of learning, and the joy of connecting with like-minded individuals.
Your adventure in beauty trends and innovations begins at Olympia Beauty 2023. Book Your Tickets Now to secure your competition spot and reserve workshop seats. Check out the floor plan and dive into the full agenda to make the most of what's on offer.