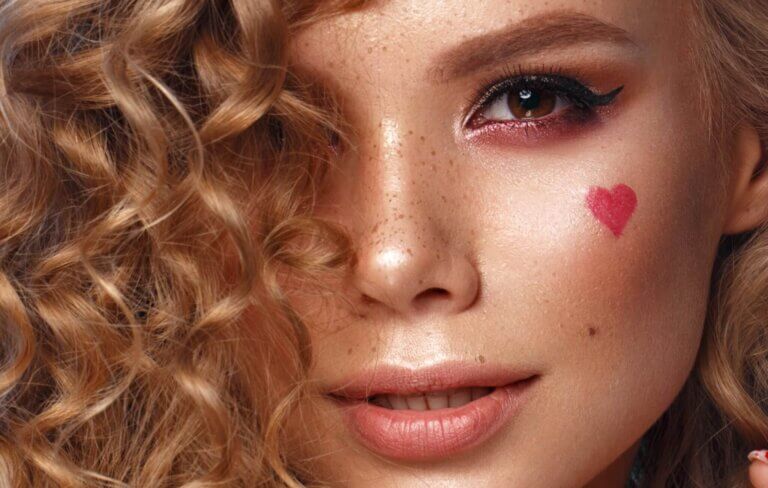 2022 is the year to spice up your Valentine's look. Let's have a look at some hairstyles and make up looks you can opt for this year!
Traditional Valentine's Day hairstyles and makeup looks bring about images of curls, waves and playful bright shades. However, in 2022, you may be looking to shake up the Valentine's Day style to spice up your appearance and stand out from everyone else.
To that end, we will be looking at some of the best hairstyles and makeup looks to ask for at the local salon or aesthetics clinic before Valentine's Day this year.
Valentine's Day Hairstyles
Perhaps the most glamorous and effortless-looking hairstyle on the list, the California Dreamin look is all about achieving a natural sun-soaked look with a blonde base. This romantic look will leave you with sensual golden locks and beachy waves that project an aura of class and elegance. 
If your natural hair is frizzy or afro, a braid remix look is a brave hairstyle that really makes a statement. This intricate mix of box braids and cornrows really lets your natural hair colour and style flourish and standout. Braid Remixes are also unique to the individual, so you know nobody is going to have the same braid remix as you. 
Braids are always going to be in fashion and in season but the heart braid is perfect for Valentine's Day. This chic and polished alternative to the French fishtail style, adds a glamorous and romantic heart outline to the back of your hairstyle.
This look is achieved by creating a middle part and two reverse French braids on either side of the head that go behind the ears before joining together at the end. The final look is usually secured by a barrette, band or spray. Whatever the method, heart braids are so cute and easy to do that it has to be considered for Valentine's Day 2022.
Cornrows and Styled Edges
This protective hairstyle is booming in popularity in recent weeks and is the perfect personal look for frizzy and afro hair on Valentine's Day 2022. This is a dual-layered hairstyle with the cornrows adding the style and the edges adding the flair. This is a real attention-seeker and for good reason because a perfect set of cornrows and styled edges will have heads turning everywhere you go. 
If you're looking for a more intimate and sensual hairstyle for Valentine's Day in 2022, then why not try a messy updo? This edgy and fashionable look adds a playful touch to your romantic evening with a messy top knot on the top part of your head. You can even supplement the updo with root power or even glitter to transform the updo into something truly cosmic and eye-catching. 
Valentine's Day 2022 could also see the return of classic looks from Hollywood past. Slick S Waves are entirely retro inspired and have actually been popping up on red carpets via stars such as Anya Taylor Joy and Jodie Turner-Smith. This style involves gelling back short hair for a slicked-back look, accented by a S wave fringe. 
This 90s-inspired look is perfect for fun and funky individuals who want to look light and extroverted on Valentine's Day. This look is achieved by brushing your hair with a paddle brush, parting your hair in the centre, and creating fluffy buns in place of pigtails on either side of the head. It is such a simple loom to achieve but is extremely effective at creating a cute look for Valentine's Day. 
If you are looking for a more edgy and rockstar-inspired look, why not go for the punk rocker look of picking one side. In this look, your stylist will sweep and part your hair on your good side, securing the look with bobby pins. You can further spice up the look using some specially placed waves or highlights. This is a very intimate look but not one that everyone can pull off.
If you've got a lengthy ponytail, you can spice up the look using a bubble ponytail. A bubble ponytail will revamp your look in a very exciting way. As your hair stylist to pump up your ponytail and section off portions of your ponytail with elastic bands to achieve the finished look. If you're feeling adventurous, ask your stylist to add braids to your ponytail for added layers and texture. 
Short bobs and pixie haircuts have definitely made a comeback. Big stars like Emilia Clarke and Natalie Dormer have been rocking the pixie look for a while, but to add that Valentine's spin, you need to go a little wispy. Wispy pixies are supplemented by bends and texture sprays to produce a rumpled and sensual look. 
Valentine's Day Makeup Looks
If you're looking for a sexual and sensual look for Valentine's Day, smoky eyes are a sure-fire bet. Pairing smoky eyes with bright red or pink lips can also add another layer to the look. If you do this, the end product will be an almost modern sensual spin on a classic glamorous Hollywood look. 
Are you getting bored of basic winged eyeliner? Reverse cat-eye winged eyeliner is a beautiful and alluring alternative. In reverse cat-eyed eyeliner looks, the eyes look fuller and more magnetic. And, when paired with bright red lipstick, reverse cat-eyes achieve a truly hypnotic and sensual look. 
A traditional Valentine's Day look that will never go out of fashion is Pink Kiss. Instead of going full glam with your makeup and overdoing it, a Pink Kiss, which is a one shadow tone look, can maximise your look using subtle blending and eye shadows. And, it is Valentine's Day after all – pink is the colour of love. 
If you want to keep your face as bare as possible but accentuate the eyes, angelic eye glitter is the way to go. Using urban glitter and eyeliner and applying it in rudimentary fashion using your fingertips will leave a subtle, natural and glitzy look. By keeping the rest of your complexion clean, your angelic glitter look will really pop. 
This high-energy look is a step up from eye shadows and smoky eye looks, as sunset eyes demand your attention. The sunset eye look will leave you with a bright gradient-like sunset shadow over your eyelids and framed by slick and blocky mascara and liner. This is a real statement look and can be accented with glitter if you're still not happy with the glam level.
It's Valentine's Day and if you're going on a date then you should expect some kissing, right? Bubblegum lips allow you to stick to the norm of bombastic lipstick but with a romantic pink lipstick instead. People usually opt for red lipstick on Valentine's Day but pink may be the new go-to. And why go just standard pink? Try bubblegum pink instead. 
The bronzed glow option is masterful at making it look like you've just come back off a beach holiday. Using a bronzed glow on your cheekbones and forehead will help complete the sun-kissed look. And, if you use this look in tandem with a California Dreamin blonde hairstyle, you will look like you literally stepped off the plane from the Bahamas. 
What are you opting for on Valentine's Day 2022?
Valentine's Day is your chance to make a sensual and romantic statement. A lot of the looks and styles listed above can work beautifully in tandem with each other or singularly as well. 
Keep in mind that enlisting the services of expert beauty stylists, especially from award-winning salons such as MJ Medispa, will help you achieve the best combination as well as the best finished result.